"OWK American style" DVD 5

Filmed at the Compound in the new OWK room! The video debut of Lady Sage. Boss invites Her Friends over - Mistress Anastasia, Lady Cheyenne, and Lady Sage to see Her new OWK room at the Compound, and experiment on a living figurine with implements. Unfortunately, the slave Irene summoned for the Ladies entertainment is behaving in a rude and sullen manner. Boss sequesters him in the jail cell area, and you get a worms eye view of each Lady ascending the stairs to lend Boss a hand in his discipline. Since he refused to eat his dinner, the Ladies take turns with his food bowl and mouth; making use of them as an ashtray.
The slave is made to lick the ashtray, and the bottoms of the Ladies shoes to atone for his sullen behavior. Fantastic smoking scenes! The film is backlit with glass block windows, allowing you to see all of the smoke, smoke rings, and sexy lipstick stains on the butts. Didn't your Mother tell you that bad women like to smoke? The prisoner is marched downstairs into the new Interrogation room to undergo some of the heaviest corporal discipline imaginable! Extreme heavy paddling, tawsing, caning, smacking, and bullwhipping will cause you to wonder how this slave will ever be able to sit properly again! The Ladies all take turns with the subject, who is securely fastened over a high black spanking bench, and then tied to a punishment box with his posterior in the air. If you liked "Smoking Nuns", this ones for you! The male creature is forced to worship feet, shoes, and boots after his discipline. Boss in exotic colorful tight full body rubber, boots, and military hat. Sage in sexy supple black leather and thigh high boots, Anastasia and Cheyenne in miniskirts, see through fetish costumes, fetish boots and shoes. Order on line Order phone or mail
"Bossy teacher at the OWK"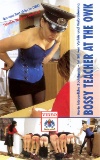 VHS only - ntsc or pal
Filmed at OWK in the schoolroom. Heavy corporal discipline - interrogatory and fraternity style. The first Boss video at OWK!
Presenting Domina Irene Boss, Mistress Shane, and the ' 3 stooges ': josie, jacob and oslo find themselves in a whole lot of trouble when they are caught goofing around by Mistress Shane in this corporal enthusiast's nightmare.
Domina Irene Boss comes into the school room at the OWK to find the 3 boys looking quite contrite, but realizes that severe punishment is in order for the very disrespectful picture that someone had drawn on the chalk board representing Her. Over the Knee spanking with a hand and paddle, tawsing over a horse, heavy wooden paddling, punishment lines, caning of the hands and bottom, and smothering are featured in this severe journey into strict classroom discipline.
A remarkable scene where all three students are caned by Domina Irene Boss and Mistress Shane will keep you on the edge of your seat!
Mistress Shane in long skirt with heels, and Irene Boss in tight corset, military hat and short skirt. Extremely verbal. Not for the novice or faint of heart.
"Extreme electric whipping"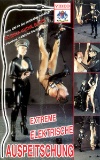 VHS only - ntsc or pal
Filmed at OWK in club Wanda. Heavy S/m for the serious player! Irene Boss returns to make Her 2nd OWK video at what She is best at - S/m and whipping! Non stop action. Bratty slave jacob had the audacity to enter the pub at the OWK and invite himself to the Boss's table. The idiot also had the bad manners to begin eating Irene's lunch. 3 scenes: 1). The film begins with upside down brat jacob enduring nipple play, cbt, caning, gag torture and humiliation. Boss demonstrates 3 electrical systems - the ball shocker with 1 mile radius remote control, the eros tech (voice activated) and the new pleasure tech (multi channeled) to give jacob the punishment he deserves. jacob is forced to wear a wooden cbt devise which makes it impossible for him to get an erection. The electricity is sent to some very interesting places! 2). slut jacob is hoisted right side up from his wrists to receive more of the same. At the end of this scene, he is removed from the suspension and kicked across the room. 3). On the cross - Boss introduces the Novus system to confuse the slave's senses and take him on a 'alpa-brain wave roller coaster ride'. While he is 'under' he undergoes electric nipple play, bull and single tail whipping to the stomach, cock and nipples, and the sound of Irene's voice amplified over a microphone. He is then placed in a heavy wooden stockade to undergo whipping with 3 different implements - a short snake, a medium single tail, and a 10 foot bull whip. The slave is verbally admonished throughout. Irene Boss in skin tight sexy rubber, fetish boots with 12' heels, and military hat.