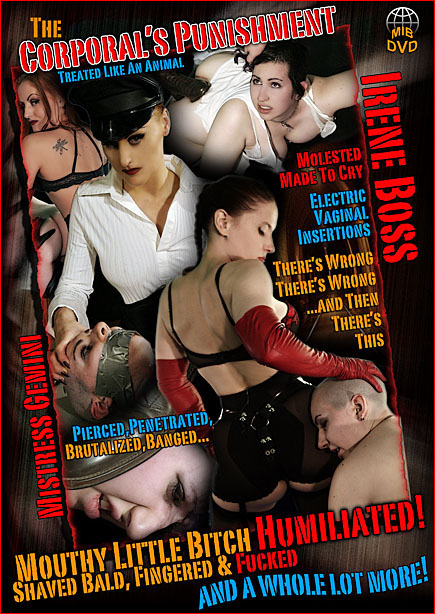 The Corporal's Punishment
Free
Scene 1: Corporal Nicola has been a lazy soldier. She isn't in her military regulation clothing when Officer's Irene and Gemini storm her barracks in search of contraband. They find chocolate, dildos, S/M paraphernalia, and OWK magazines! Corporal Nicola's hair is not military regulation. She looks like someone's college aged daughter who just dropped out of school with that silly mow hawk she's sporting! Irene and Gemini wrestle her to the floor tearing her clothes off. Next, she is interrogated about the contraband and told what she must endure if she wants to avoid court marshal. Nicola is made to bark like a dog, grovel and beg for the two female officers. She is kicked in the ass repeatedly and slapped across the face. This is rough treatment and she really deserves it. The corporal is a sassy brat who likes to talk back. You will lust over the uniforms of Irene and Gemini. Custom made leather and green jodhpur pants, corsets, ties and military hats with riding boots. Attention!
Scene 2: Nicola is nude and restrained to the OBGYN table with heavy bondage mitts and thick leather ankle restraints for her head shaving. The Ladies take turns shearing Nicola with various razors, and make humiliating designs on her head. Finally, her head is lathered and shaved. She endures breast bondage and electricity on her nipples and pussy. Her piercings are placed in suspension while Irene takes her brain for a ride under the Nova Pro, and she experiences voice activated electro genitorture. Both Ladies take turns cracking the whip to set off the sound activated electroshock system.
Scene 3: Hasn't this soldier had enough? What a good trooper! The two Female Officers change their clothes into sexy lingerie ensembles featuring garters, stocking, hose, heels, and gloves. Nicola is on the spanking horse. The Ladies drink a magnum of champagne and burp on Nicola. She drinks champagne from her dog bowl. She is collared, gagged, leashed, and teased with dog toys, and is forced to play fetch. It's so wrong!


75 minutes in members!