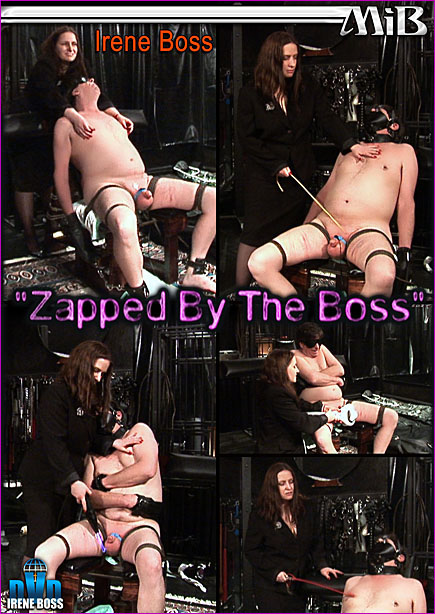 Zapped By The Boss
Free
ELECTRO PLAY / CBT / BONDAGE / CANES / CROPS / GS
Beautiful music fills the air. What a calm working environment, We spy a nude male affixed to a cbt chair in tight heavy bondage with a face muzzle. What will become of this man? Something is certain. He is Irene Boss's slave secretary and he has to prove himself in order to keep his job in the cruel series of electrical displays and vicious canes.
The Boss is calm upon entering the room, but soon becomes her usual self. Pinstripe suit, heels, and vicious red riding crop. The breathing of the underling changes at the site of her! First she gently plays with his nipples while electrocuting his cock, and then begins to lash at his tender exposed white thighs with the crop. She then crops his nipples and cock. The Mistress announces that the crop marks look beautiful! She then crops his stomach savagely and runs her long nails over his belly and things. We hear the first diabolical laugh of the evening. She beats him again and touches him sensuously all over his body. What a mind fuck! Sensuous soothing of a punished area! Tender things are rubbed as Mistress announces she is going to get the cane this time. The muzzled slave objects! We hear the second evil laugh. The caning of the thighs begins and he hates it! She changes his arm position and then plugs her self into a violet wand and proceeds to tickle his cock with her long fingernails. Sparks fly! She uses the violet wand directly on his cock. Evil laugh number 3! Don't be afraid, it's just electricity! Zap, zap, zap again! She gets his ass, nuts and shaft! It's excruciating and she laughs! She then sooths him in T&D with a nice wind down using a vibrator. He is bondaged tightly and cannot move an inch! You want to come? Very well, then you shall be caned right afterwards. Mistress is diabolical as she brings hew slave to orgasm with 2 different vibrators and then viciously canes his thighs while he it tightly bound on a CBT chair. This is his reward, not the orgasm. The bound blindfolded slave is caned anywhere on his body the Mistress chooses. She looks sternly at the camera throughout and laughs. It is clear that she is enjoying herself while he suffers! She then lovingly runs her hands all over his welts and forces him to have another orgasm. This one is explosive! The Mistress uses the slave as a golden toilet at the end in a bathtub. View it. Over 30 minutes!


35 minutes in members!