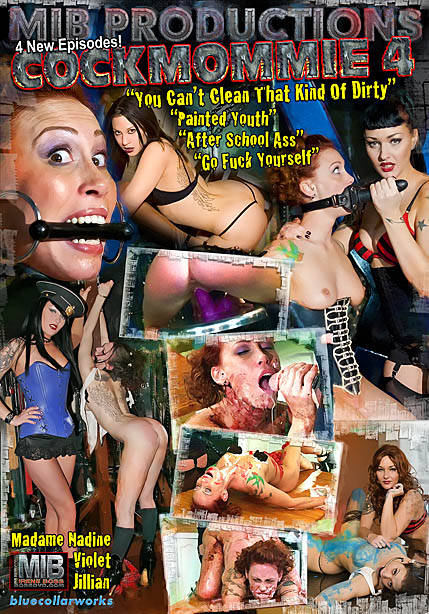 Cockmommie 4 - You Can't Clean That Kind Of Dirty
Free Trailers
Scene 1: "You can't clean that kind of dirty"
It's Gonzo for sexy submissive violet in her first ever appearance on film. She is auditioning as a house girl today! We begin with a long look at her topless long legged physique decked out in rubber corset and collar, as she goes through the complete collection of MIB Productions BossDVD.Com films in the lobby of the Compound. Sha-wing! Watch as she bends over. Madame Nadine screams and summons her up the stairs. Walk behind her. She is verbally berated by Madame Nadine for not cleaning the bathrooms properly, and now much be punished. She exclaims "You can't clean that kind of dirty"! Face slapping and shoving ensue. A gum snapping Madame Nadine is not pleased with this performance so far. Somethings gotta give. The now panty-less slave girl is panty gagged on the Andrew's Cross. The muscular miscreants nipples are clamped and she is properly gagged. She is smeared with an irritating lube and tied with rough rope. Her nipples and breasts are bitten and smacked. Next an OTK bare bottom spanking scene with fingering and the girl is ordered to masturbate. The bitch is a sassy brat who like to talk back! Dildo gagged she is placed over the horse for a good pussy and bottom flogging/cropping/wooden spoon paddling. She auditions her self dildo masturbatory fuck abilities on a steel chair while undergoing tit play. Next she fucks Cock Mommie with her dildo gag. The sexual audition in the gothic dungeon now moves to the kitchen where a femmy apron-ed and oven mitted Violet provides domestic service to the crabby Mom of Cock with tea, cupcakes, sexual food play and sploshing. A naked Violet lays on the kitchen table while Cock Mommie makes a Sunday out of her with sprinkles leading up to oral sex, vaginal strap-on play and oral strap-on service with a squirting milk cock. What a dumpster slut! Both Ladies are gleeful in their performances.
Scene 2: "Painted Youth"
Cock Mommie and Jillian are at head quarters down at the South Side Office. Dressed as a Gothic schoolgirl, Jillian is learning to speak properly while gagged. There are constant face slapping and corrections for getting things wrong as well as hair pulling. Speech restriction, gagging, and verbal humiliation. Jillian lies down on the kitchen counter for her "art lesson", which includes clothing ripping and destruction. Items that Cock Mommie paid for must be rescued, however. Messy paint is squirted all over the slutty school girl's body and outfit while she is gagged. She is rewarded at the end by being praised for being a good girl.
Scene 3: "After School Ass"
It's time for lessons at the Compound again with Instructress Madame Nadine and pupil Jillian, who much crawl up the stairs bare assed, blindfolded and gagged in her ballet boots. She is placed on the pillory and her shirt is cut off to be flogged on the behind with a rubber implement, and leather paddle. She is moved to an Andrew's Cross for more paddling and trained in obedience with face slaps, erotic nipple play and pussy slaps.
Scene 4: "Go fuck yourself"
Mommie Nadine is resting and reading in the Victorian Boudoir while house girl Jillian simpers about the room pestering her, begging her for instructions, so finally Mommie orders her to "go fuck herself", which she does on a chair. Oral strap-on play while Mommie observes and pulls her hair. Next Jillian does a sexy erotic dance for Mommie and fucks her self vaginally with the dildo.
Madame Nadine in a selection of beautiful leather corsets. The Ladies in this Cock Mommie series are beautiful young firm bodied exotic dancers. The emphasis is on erotic lesbian BDSM, humiliation, strap-on and splosh play.
To View Longer Trailer