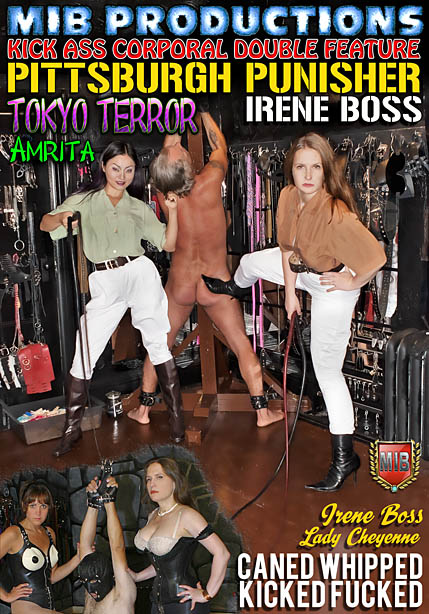 Pittsburgh Punisher - Tokyo Terror
Free Trailers
"Kick Ass Corporal Double Feature"
Film 1 (New release) "Pittsburgh Punisher / Tokyo Terror" Irene Boss welcome Mistress Amrita all the way from Japan into her Pittsburgh dungeon to whip, crop and cane a slave. First he is placed in bondage on the whipping pillory. The Ladies wear silk shirts, boots, thick leather belts, and white jodhpurs. Pirate / Equestrienne play anyone? Gorgeous flowing long hair compliments their strict demeanor. He is peppered in clothespins for the Ladies target practice. They break out the bullwhip and signal whip to have some fun! The most stubborn clothespins are removed with riding crops. He is made to clean up the mess. Rotated face out with arms up on the pillory for round two, he must be rebound. Mistress Amrita scratches him and pokes his nipples. Ms Boss bullwhips his balls. OUCH! For flailing about he is then bent over the punishment box for a strong arm judicial style tandem caning from the 2 sadistic sirens. Next time he is going to remain absolutely still for whipping practice, because this is what happens!
Film 2 (Re release) "Caned, whipped, kicked, and fucked"! Filmed at Lady Cheyenne's studio in Rhode Island. Lady Cheyenne wears a custom made rubber outfit and Irene in black leather corset with 8" high fetish boots. slave Chris is attached face down to the leaning St. Andrew's Cross in the center of Lady Cheyenne's dungeon. He is taking a caning while in nipple play predicament bondage; his nipple clamps are attached to the cross, and every time he moves from the caning he gives himself a nice painful sensation. He is also placed in predicament cbt ball bondage by Irene and Cheyenne uses the lash on him. Irene holds him to the cross while Cheyenne continues to give him the lash. He takes the cane one more time, and then Irene begin to discipline him with her signal whip. Irene warms him up while Cheyenne watches. A branding is discussed. Then Irene begins using her bullwhip. The slave is inspected and more bullwhipping occurs. He is then moved to a kneeling suspension position, with his arms overhead. Cheyenne begins kicking his balls. Then, it is Irene's turn. The slave is made to "present "his balls to the two Mistresses from more kicking. He is also kicked in the ass. Lady Cheyenne then engages the slave in some shaft kicking, first from behind and then in front. He is then moved to the large bondage frame for strap on play. He sucks Cheyenne's cock while Irene scolds and spanks him. He is reprimanded by Irene about his unkempt hole and asshole manners. Irene spanks him, leaves him plugged, and then watches him as he continues to suck Cheyenne's big black cock.
To View Longer Trailer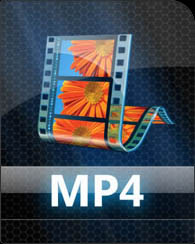 iPod-ipad