Scroll the full page for updates!

NOW RELOADED: high resolution .mp4! "Edwina 4 back for more!" (mpg4 format: 2 hours and 6 minutes.) Starring Irene Boss, Lady Tantalize (Atlanta Georgia) and MIstress V. (Atlanta Georgia) The axis of Female Domination. edwina is cross dressed and trained in a domestic setting. Strap on, emasculation, humiliation, maid training, shoe and foot worship, spanking, caning, toilet paper humiliation, whipping, serving, ect...View now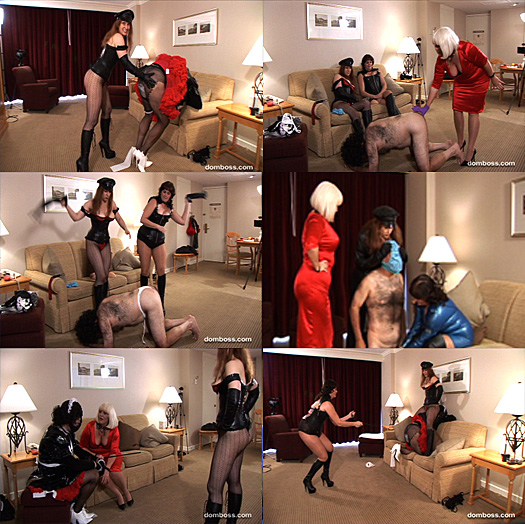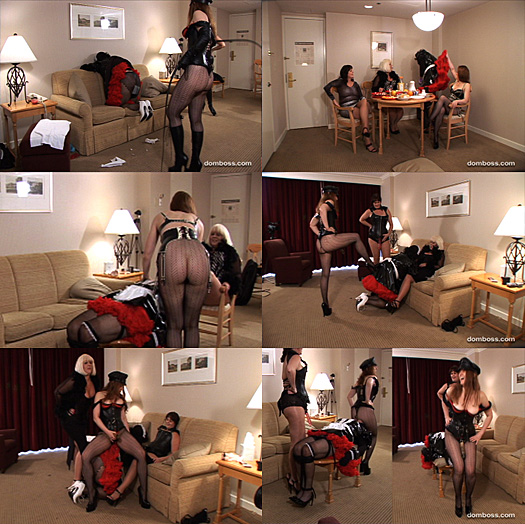 NOW RELOADED: high resolution .mp4! "OWK American Style" 55 minutes of Extreme Fem Dom!
Filmed at the Compound. The video debut of Lady Sage. Boss invites Mistress Anastasia, Lady Cheyenne, and Lady Sage to see Her OWK room at the Compound, and experiment on a living figurine with implements. Unfortunately, the slave Irene summoned for the Ladies entertainment is behaving in a rude and sullen manner. Irene sequesters him in the jail cell area, and you get a worms eye view of each Lady ascending the stairs to lend Irene a hand in his discipline. Since he refused to eat his dinner, the Ladies take turns with his food bowl and mouth; making use of them as an ashtray. The slave is made to lick the ashtray, and the bottoms of the Ladies shoes to atone for his sullen behavior. Fantastic smoking scenes! The film is backlit with glass block windows, allowing you to see all of the smoke, smoke rings, and sexy lipstick stains on the butts. Didn't your Mother tell you that bad women like to smoke? The prisoner is marched downstairs into the Interrogation room to undergo some of the heaviest corporal discipline imaginable! Extreme heavy paddling, tawsing, caning, smacking, and bullwhipping will cause you to wonder how this slave will ever be able to sit properly again! The Ladies all take turns with the subject, who is securely fastened over a high black spanking bench, and then tied to a punishment box with his posterior in the air. If you liked "Smoking Nuns", this ones for you! The male creature is forced to worship feet, shoes, and boots after his discipline.
Lady Cheyenne on DVD
Lady Sage on DVD
Mistress Anastasia on DVD

I returned to the DC area: December 26th - 28th

NOW RELOADED: high resolution .mp4! "Guess who's coming to Mistress" 33 minutes of Extreme Fem Dom!
"Guess who's coming to Mistress"

33 minutes of Extreme Fem Dom!

Irene Boss and Mistress Denetra (The Black Ultimatrix) get totally out of control in this extreme journey into masochism.

The following occurs to the sub: suspended in a chair, spanked, cropped, paddles, smacked, slapped, electroshock to nipples and clitty, violet wand and hollers so loud the walls shake!

Placed in the sit sling for strap on training and electric dildo treatment.

Very heavy play!

View now Order DVD Other DVDs with Mistress Denetra

NOW RELOADED: high resolution .mp4! "Vanessa's Electrical Education" 35 minutes of Lesbian Medical Play
Meet Vanessa! She had been watching too much TV again and needed to be "reprogrammed", so when the Rimba company decided that MIB Productions (BossDVD.Com) should film an electrical commercial for their toy business, Irene was just to happy to put Vanessa and put her through her paces in this electrical educational endeavor. Irene demonstrates many new electrical devises by the rimba company and lots of toy attachment too. All her naughty bits are explored. The experiments were a success and Vanessa is all better now thanks to kinky Dr. Rubber Boss! View now Order DVD Other DVDs with Vanessa

NOW RELOADED: high resolution .mp4! "Private Sessions Bondage 2 the Gothic" 45 minutes of CBT
| | |
| --- | --- |
| | |
| | The saga begins with an upside down suspended hooded slave in predicament bondage, wearing cuffs, nipple clamps, and a cbt devise. His senses are flailed with voice activated electricity, VR glasses, single tail whipping, spanking, nipple play, and cbt. She shocks him with with a violent wand and he screams! He is very loud throughout, and she knows just when to turn up the intensity and also when to back off. It is a roller coaster ride! The slave is lowered to the ground and face sat, and then suspended right side up for more action. The slave is fastened in the sit sling for some devious dt and more c&b and nipple play predicament bondage play. He is spat on and stimulated with a vibrator then forced to masturbate while Irene makes remarks at his expense! View now Order DVD |

NOW RELOADED: high resolution .mp4! "Boot Camp" 30 minutes
"Boot Camp" 30 minutes.

2 slaves compete in a contest of hairbrush spanking to see who earns the right to worship Irene's boots!

One slave shows up early and gets a good slap across the face!

Spanking, caning, and bondage.

The special caning stockade and spanking bench are used. Boss in supple skintight black leather pants, boots, and bra.

Takes place in lobby and schoolroom.

NOW RELOADED: high resolution .mp4! "The Taming of Bess" 32 minutes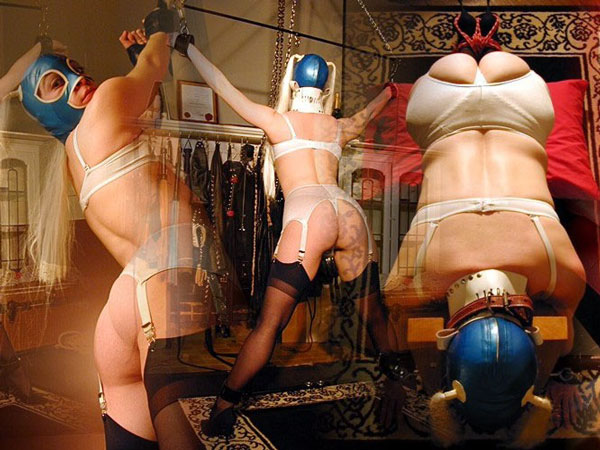 "The Taming of Bess" - 32 minutes. The debut of Bess. Watch the Boss and Anastasia handle the worst brat who has the sexiest behind you ever saw! Bess was supposed to have the kitchen clean and dinner ready for Boss and Anastasia when they came home from a long night of carousing at the bars. Instead they find the brat having a little chat with her master on the phone. The kitchen gets smashed to smithereens as Irene shows the new girl who the Boss is. Anastasia grabs Bess and gives her a sound over the knee spanking! Bess is forced to pick everything up, and then crawls up stairs to be quickly fastened with spreader bars. Surprise! The ladies want to play - so they tease her with double and two handed flogging, pussy-cropping, electricity, spanking, nipple play, gagging, and elecro-hypnotherapy. Placed on the whipping post, she then fears that Irene Boss is going to rip into her with the bull whip. The climax of the video finds her in the schoolroom, receiving a sound birching from the Mistresses while she is strapped over the punishment box (a New West/Leda design) and some intense tickle torture. Her poor feet are tormented by 2 inch long fingernails. Our story ends with poor Bess straight jacketed and tightly tied in a chair, and you hear her recite her house rules (voice-over) while watching her squirm.