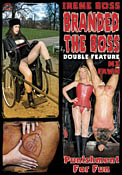 Available! - Double feature
Film one - "Branded by the Boss" Irene's slave is giving her a rickshaw ride in Frick Park at 6 am one cold blustery November day. The park is silent, it's just Irene and her slaves in the cold morning air with the falling leaves and the early morning sun. Giddy up! Then it's time to return to the Compound for his branding reinforcement. He is placed in a straight jacket to prevent any attempts to flee and placed on the floor while Irene tramples his balls for awhile in shoes and then stocking covered feet. He is forced to kiss and worship her feet after some ball kicking, and he must lick her gorgeous black patent platform fetish shoes. Irene looks very sexy with her long flowing hair, black leather Colette corset, and seamed stockings. She is in a very bitchy mood however because she is on her period. It is a perfect day for a branding reinforcement! Irene draws the design quickly with a hot cautery pen. As a reward for taking the pain, he is brought down and allowed to worship her bare feet. She has French pedicured toe nails and alabaster skin.
Fim two - "Irene Boss presents Mistress Fawn - Punishment for fun!" This is the gorgeous blonde Mistress Fawn's debut with MIB Productions (BossDVD.Com) Irene's branded boy is hosted upside down in the air for Mistress Fawn's pleasure. His arms are bound with hemp rope and attached to the whipping post. A most uncomfortable position! But it's not Irene's slave we are concerned with here - it is rather providing pleasure to the sadistic lusts of Mistress Fawn. She uses many implements upon his ass and balls - a rug beater, mahogany spanking stick, cane, crop, sand paper slapper, pin hammer, hard plastic martinet and finally a pink plastic paddle. Ouch! He is caned, strapped and slapped while she laughs! He is also bent over the punishment box for her amusement. Mistress Fawn wears a beautiful red leather custom corset and patterned stockings with calf length black leather stiletto boots. Filmed by Irene Boss.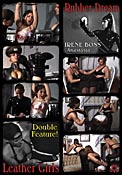 Available!
- Double feature
Film 1 - "Rubber Dream" Introducing Mistress Anastasia and submissive nadine in their first appearence! Mistress Anastasia and The Boss decide to give this 21 year old girl a heavy orientation into the world of bondage, rubber, spanking, suspension, high heeled punishment shoes, and electricity. Violet wand, shock pads, flogging, breast bondage, sensuous torment, inflatable rubber body bag, and rubber hobble skirt. A fetishist/bondage enthusiasts 'dream come true'!
Film 2 - "Leather Girls" Eve's debut on film. Mistress Anastasia and The Boss give a hapless lady professor a formal "education". Incredible bondage scenes including a remarkable suspension in a chair... light to moderate spanking and humiliation. Single tailed whipping, dildo training, spanking, flogging and verbal humiliation.