Select films are being converted into large format .mp4 segments. New content is being added.
Amazing Offer: Nonrecurring 4 months for 49.95. It's a great time to join DomBoss.Com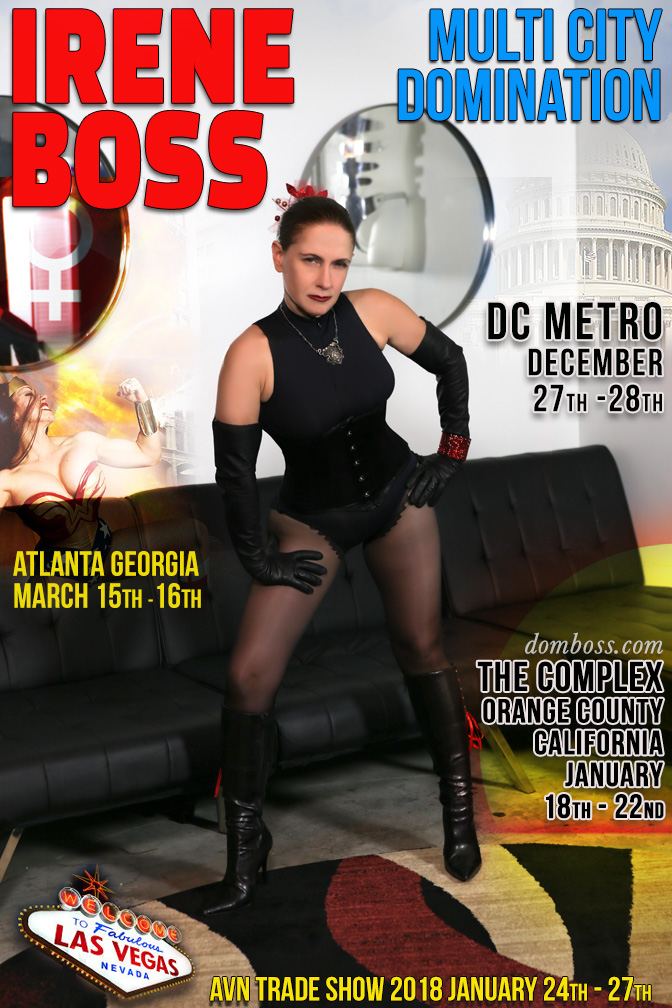 Hello I am Ms Irene Boss.
Please adhere to my guidelines in order to be considered. Private introduction via email is the way to discuss an audience with me.
Scene information is available by scrolling this webpage. Please read this entire page before making contact.
I am based at The Compound in Pittsburgh Pennsylvania. Dates I am in Pittsburgh:
Through December 24th, 26th, 30th / January 2 - 16, 29 - 31 / February 1 - 8, 20 - 28 / March 1 - 13, 18 - 31
I am visiting:
DC Metro December 27th and 28th
The Complex in Orange County (My other studio): January 18th - 22nd
AVN Trade show 2018 - Las Vegas Nevada January 24th - 27th
Atlanta Georgia March 15th and 16th
I am not available in Pittsburgh on the following dates:
December 25th, 27th - 29th, 31st, January 1st, January 17th - 28th, February 9th - 19th, March 14th - 17th

Director's Cut DVD sale! Shipping and handling included in the US


Mistress Alexis Kim visited the Pittsburgh Compound December 1st and 2nd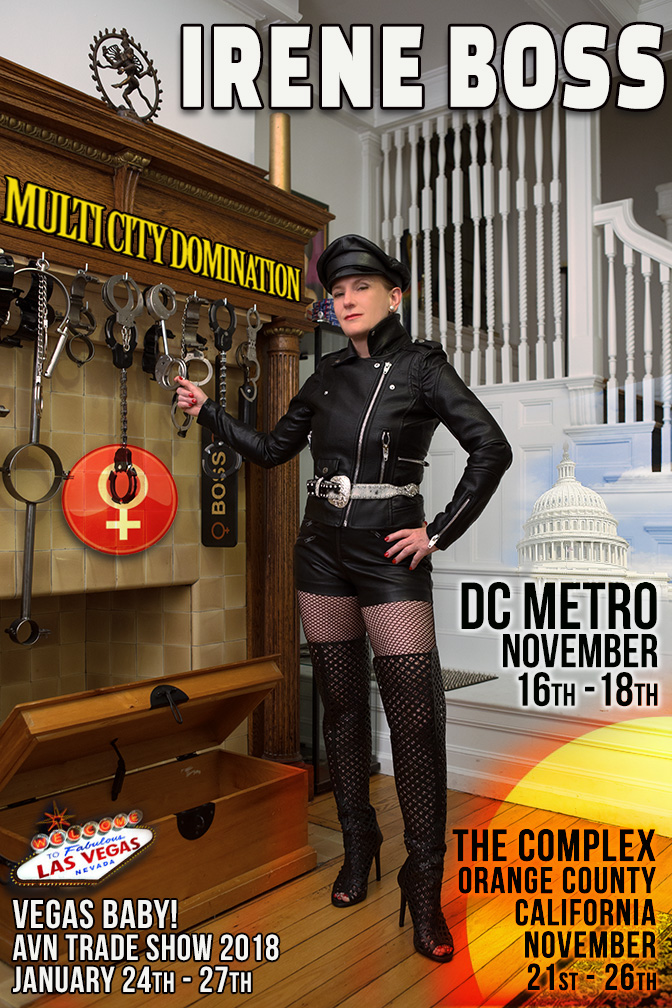 A listing of the Luscious Ladies in MIB films!
BossDVD.Com! Titles available at adult stores near you.

A huge amount of content! Click here for the video content you will see when you become a member
(List generally updated every other month or so)
Lengthy trailers from new DVD releases, full length web movies and full length DVD features.
MIB Productions FemDom DVDs is an industry benchmark standard for Female Domination Films
Boss DVD.Com has presented booths at the Venus Fair (Germany), AEE (Vegas), ANE (Vegas), AVN (Vegas), BondCon (NYC and Vegas), FetishCon (Tampa), FetFest (Maryland), BoundCon (Germany) Black Rose (DC), Diabolique (Philadelphia), Demonia (France), DomConAtlanta, DomConLA, Kink Fest (Oregon), and LA Erotica just to name a few!
(November 2017 archive) More archives