Writing, from the members area: "The Door" There are hundreds of thousands of buildings in Southern California and each has several doors. However, there is only one door in Southern California that leads to the special world of Mistress Irene Boss. The door looks ordinary, but the world inside is not. Words like extraordinary, unbelievable, and incredible are all inadequate to describe the world of BDSM accessible through that door. This door is slightly ajar at the appointed time. The submissive need only push it open to enter her world and completely relinquish any control of their life. Once inside, it is the Mistress who will make all decisions and control all actions. She will function in place of the mind and will of the submissive. The submissive will just obey. Period. I tremble with equal amounts of excitement and fear as I walk through the doorway into her world. I willingly cross the threshold and give up control over everything. In her world, I do whatever she wants….for as long as she wants….whenever she wants. I accept whatever punishment she deems appropriate. I worship her in any way she chooses. Inside that door I am not me anymore—I am hers. She greets me in a to-die-for outfit: Red and black brassiere with two small straps connecting the cups that delicately support her breasts. Ruffles on a red corset that accentuate the curves of her sculpted body. Tight pants constructed of shiny rubber with a zipper bottom. Dangly earrings with a large rhinestone necklace. My knees wobble as I look at this combination of power and beauty arranged in such an erotic way. She recognizes that I am almost too weak to function and gives me a reassuring welcome hug to insure that I can at least disrobe and ready myself for the session. The hug makes me feel safe. I feel my fear dissipate as I am encircled by her strong arms. She will take care of me, she will be in control, I do not need to worry. I will be ok in her world. I will just obey and be hers. This brief moment of calm ends all too soon as she begins to give me orders. "You will dress in this room." "You may put your things on this chair." "You will come to the next room when you are ready." Read the rest in members

Not tonight, we have a session! 73 minutes

Free .flv trailer (members content in .mp4)

Filmed at The Compound. Private scene footage.

Scene 1: (23 minutes) Ms Boss suspends her slave in a leather body bag. She sits on him and sensuously rubs him while he is experiencing electroplay and then takes him off the ground by means of a chain hoist. His nipples are completely at her disposal. She adjusts the electricity, flogs him, clamps his nipples and paddles him. She opens the body bag to reveal that he is wearing a leather hood. Ms Boss is getting wet from his suffering, and wipes her juices on his face. This Director's Cut DVD contains a scene that is golden in a smother box with a funnel.

Scene 2: (40 minutes) Ms Boss as Harriet Marwood in a strict CP scene, including a long silk robe with hood is absolutely terrifying! "Richard" is tied face down spread eagle on the bed and lectured severely while classical music against a sea scape plays in the background. Very romantic! Ms Boss begins with the convent strap and progresses to many other different straps, tawses and canes. Ms Boss improves upon the bondage and he is gagged.

Scene 3: (10 minutes) Ms Boss places her slave in a rubber vacuum bed and teases him mercilessly with a Hitachi magic wand.

product comes with 30 minutes of trailers from other films!

Director's Cut DVD sale! Shipping and handling included in the US


"General Mayhem at your Service" 70 minutes

Free .flv trailer (members content in .mp4)

Order Higher Resolution Director's Cut DVD

Filmed at Top Secret. Private scene footage.

Scene 1: Someone's submissive husband has not been cleaning the house properly. It is also duly noted that Napoleonic subhub forgot to bring Ms Boss (AKA General Mayhem) something that She wanted. Well - mistakes have been made and someone is blamed! He is stationed on the ST Andrew's Cross while his Wife giggles. Ms Boss begins with hand spanking and exclaims "We're going to get to the bottom of this aren't we? When I am finished he's going to be doing a much better job!" Most submissive men would give their right arm to have a Dominant Wife, and this one clearly does not appreciate the privilege. This is why a visit to the Boss was mandatory! His Wife takes photographs while Ms Boss disciplines and the cameras roll. A take home lesson is in the works. Since he is displaying excitement Ms Boss decides to fit him with a Kali's teeth bracelet right after he cumbusts. A very sturdy flogging takes place followed by an upper back whipping with a signal, and then with a bullwhip! Placed in a metal and rubber chain link hood, his nipples are clamped and then calipered. His C&B area is bound in pink silk ribbon.
Scene 2: He is ushered over to the spinning bondage table and affixed midair face out, with a completely mummified cock. An erection is now impossible! The C&B area is attached to the nipples for a predicament. Since he is dripping and sporting a Prince Albert piercing Ms Boss decides to break out the new Huse violet wand. Placed sideways in midair for a frontal body flogging (followed by a thigh, ball and cock whipping), he begins to see the error of his ways however the comments from the peanut gallery are ignored. Now it's time for an upside down thigh caning followed by more violet wand C&B fun. His Prince Albert ring is hung with weights and the cock tip peppered with clothespins. Ms Boss decides to whip them off. He is next placed back out for an intense whipping, turned upside to be whipped and caned and then placed sideways for more of the same. Ms Boss wants to make everything even. Scene 3: He is bound to the stretching rack and restrained while Ms Boss prepares his feet for bastinado. Electric massage gloves are demonstrated, hot wax on the soles and a riding crop is used to remove the wax followed by scratching. Scene 4: A ride on the Ass bench and Fuck Machine with several different attachments followed by a strap-on scene with Ms Boss.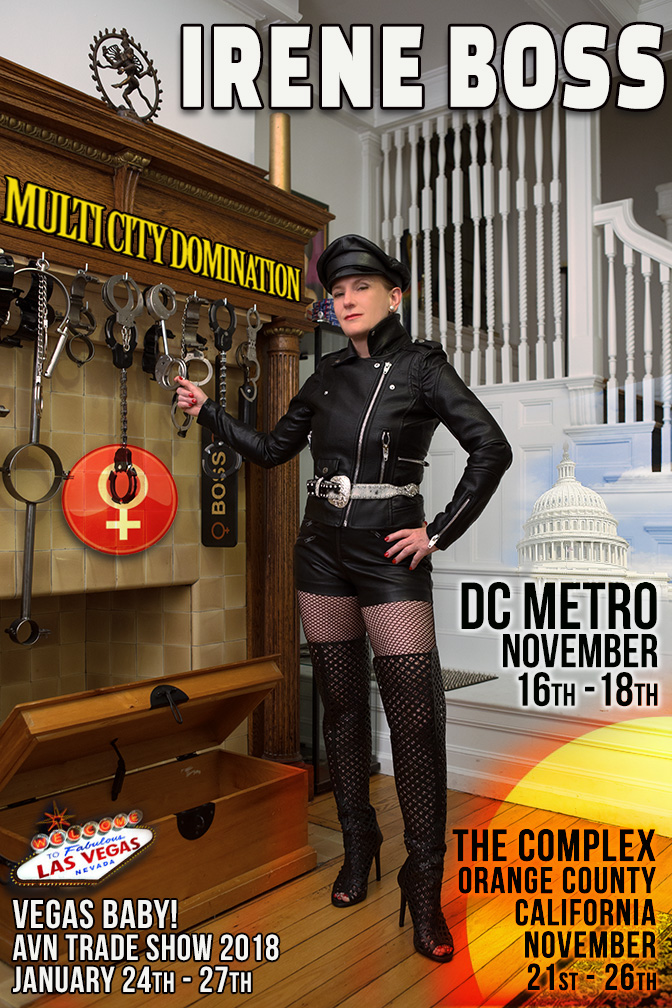 Hello I am Ms Irene Boss.
Please adhere to my guidelines in order to be considered. Private introduction via email is the way to discuss an audience with me.
Scene information is available by scrolling this webpage. Please read this entire page before making contact.
I am based at The Compound in Pittsburgh Pennsylvania and am in Pittsburgh on the following dates:
November 28th - 30th / December 1st - 23rd and 26th - 30th / January 2nd - 16th and 29th - 31st
I am visiting:
The Complex in Orange County: November 21st - 26th
I am attending: The AVN Trade Show January 2018 (BossDVD.Com)
I am not available in Pittsburgh on the following dates:
November 15th - 27th, December 24th, 25th and 31st, January 1st and 17th - 28th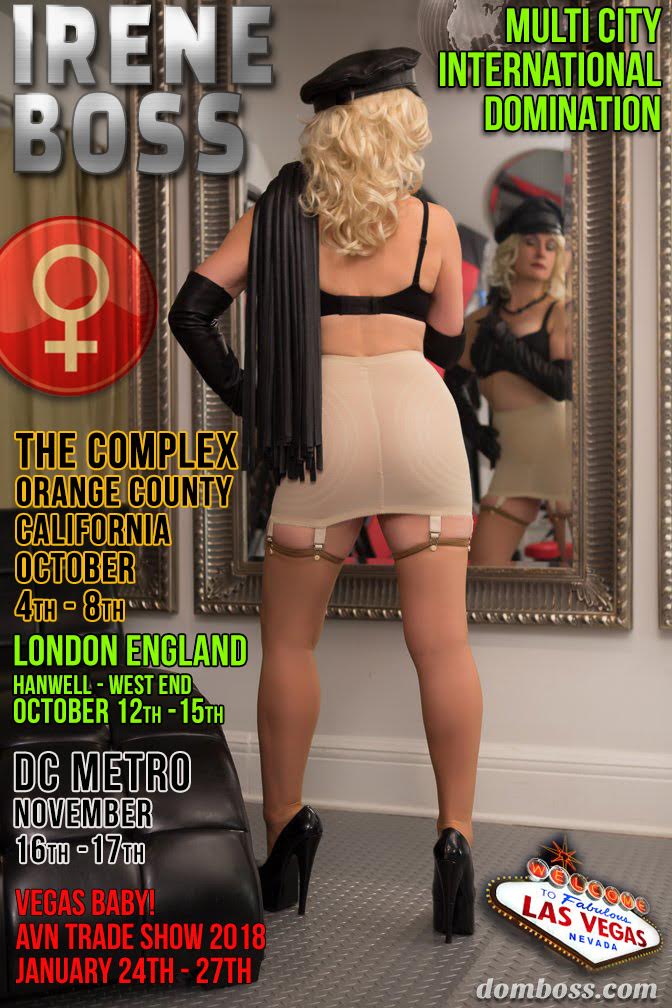 Select films are being converted into large format .mp4 segments. New content is being added.
Amazing Offer: Nonrecurring 4 months for 49.95. It's a great time to join DomBoss.Com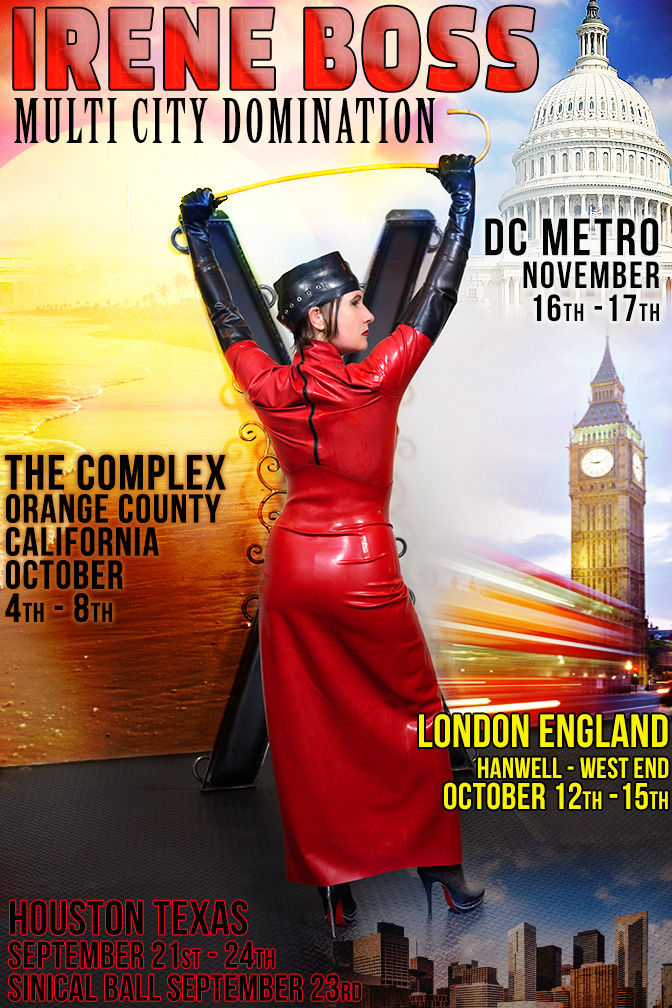 Recent image of Ms Boss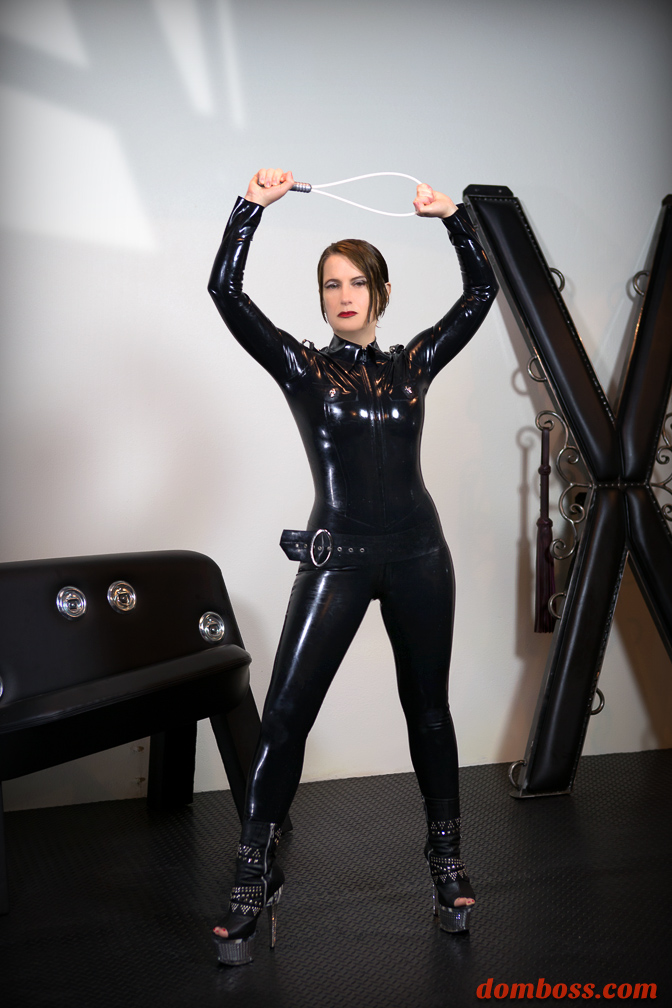 A listing of the Luscious Ladies in MIB films!
BossDVD.Com! Titles available at adult stores near you.

A huge amount of content! Click here for the video content you will see when you become a member
(List generally updated every other month or so)
Lengthy trailers from new DVD releases, full length web movies and full length DVD features.
MIB Productions FemDom DVDs is an industry benchmark standard for Female Domination Films
Boss DVD.Com has presented booths at the Venus Fair (Germany), AEE (Vegas), ANE (Vegas), AVN (Vegas), BondCon (NYC and Vegas), FetishCon (Tampa), FetFest (Maryland), BoundCon (Germany) Black Rose (DC), Diabolique (Philadelphia), Demonia (France), DomConAtlanta, DomConLA, Kink Fest (Oregon), and LA Erotica just to name a few!
(October 2017 archive) More archives