Hello I am Ms Irene Boss. This is my membership website - DomBoss.Com
If you are seeking live scene information - please adhere to my guidelines in order to be considered.
Private introduction via email is the way to discuss an audience with me.
Scene information is available by scrolling this webpage (pittsburghdominatrix.com).
Please read the entire before making contact.
I am in Pittsburgh through May 31st and June 7th onwards
Visiting: NYC: June 1st - 4th / Orange California: July 2nd - 9th / DC July 22nd - 24th

Writing: Going deep in subspace at the Complex
The Disneyland Star Wars exhibit is opening soon, but there is another option for a deep space experience in Southern California—at the Complex of Mistress Irene Boss. When I entered the Complex, the Mistress was calmly sitting on a sofa in a spandex outfit so tight that she wore no bra. She had me on my knees immediately worshipping her feet through the lattice of her new high heels. While I kissed the toes and instep so gloriously encased in these stilettos, she interrogated me to see if I followed her instructions. "Are you in chastity?" "Yes, Mistress." "Did you bring two outfits to wear?" "Yes, Mistress." "I am glad to see you are wearing my collar." "Yes Mistress." "You will take only a few minutes to dress in your first outfit and go to the next room and lay face up on the table. "Yes, Mistress."
I tried to dress a quickly as possible, but my hands were shaking from anticipation and it was difficult to fasten the garters. I had chosen a pale purple skirt and a simple white blouse that was thin enough to show my bra. I decided to go "au naturel" on top for this session with a white 36B I purchased online. I really am an A, but it is difficult to get bras with that cup size. White hose were attached to an old-fashioned white panty girdle and a teeny tiny white thong was added just for show. Vanilla-colored gladiator high heels completed my pastel outfit (well, along with the wig and earrings).
Once on my back on the table, the Mistress began her inspection. She confirmed my chastity, laughed at the size of my thong, and checked out the stretch of my panty girdle. She had me roll over and began strapping me to the table. "Spread your legs," she ordered as she put the belts on my ankles. "More," she demanded as I strained my legs against the tight purple pencil skirt. She pulled on each ankle as she made the final attachment and each foot was pulled with the toe down enforcing the high arch already in my gladiator heels. For my wrists, she mercifully rigged an alternative bondage that allowed me to move my shoulders since she knows I have shoulder issues. Each wrist was tightly strapped, but then the straps were attached to a rope she ran under my chin and under the table so I could move along the rope line.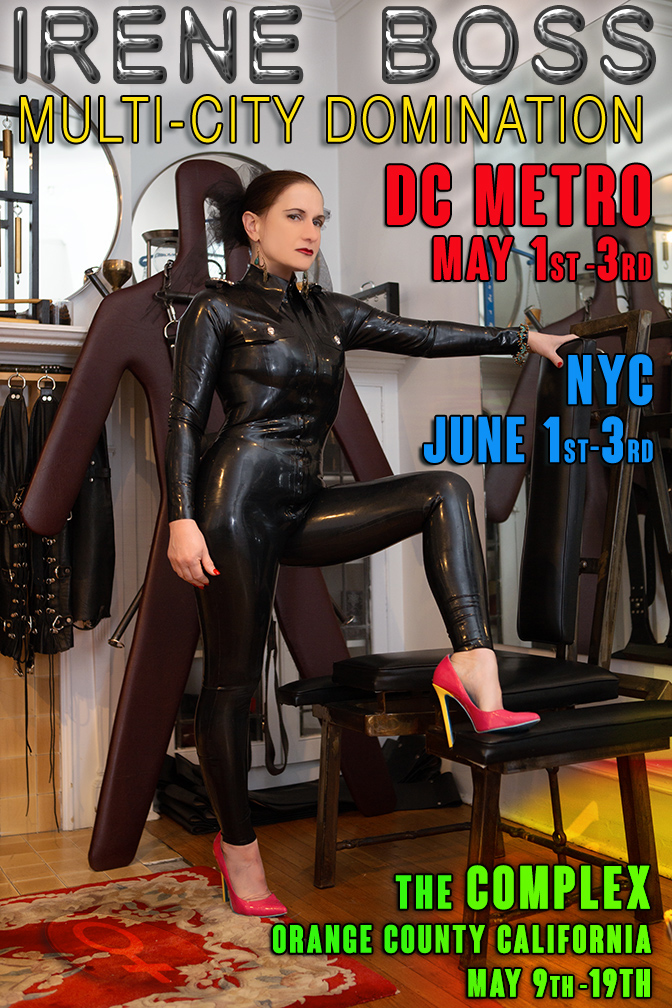 New video content for members coming the last week of May:
"Part 2 - Private Sessions Footage Take 5 - Multi Purpose CBT slut"
Yes I have taken the "Quiz" (ha ha ha)
Results: You are often exaggerated and over-the-top in your speech and expressions.
You are a romantic at heart and a natural leader. You are James T. Kirk (Captain) 100%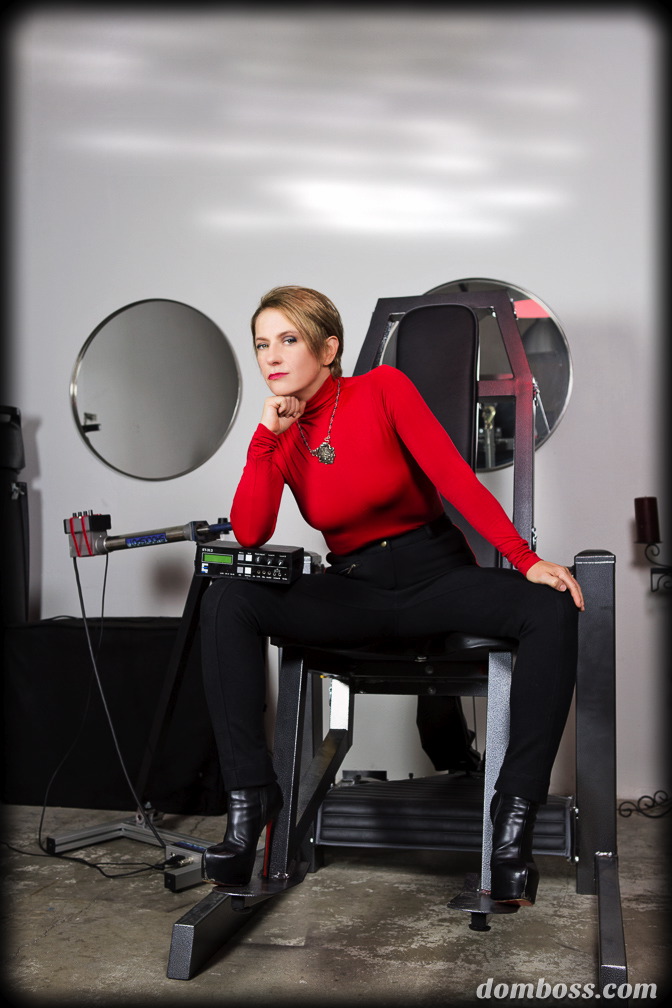 Friends: Rebecca Knox and Madame Ingrid
Goddess Cheyenne of Atlanta Georgia visits the Orange Complex October 24th - 26th
Her March 2019 Pittsburgh visit was amazing!
By popular request - My need's page has been updated
Select films are being converted into large format .mp4 segments. New content is being added.
It's a great time to join DomBoss.Com!

Director's Cut DVD sale! 6 DVDs for 200.00 S&H included in the US


A listing of the Luscious Ladies in MIB films!
BossDVD.Com! Titles available at adult stores near you.

A huge amount of content! Click here for the video content you will see when you become a member
(List generally updated every other month or so)
Lengthy trailers from new DVD releases, full length web movies and full length DVD features.
MIB Productions FemDom DVDs is an industry benchmark standard for Female Domination Films
Boss DVD.Com has presented booths at the Venus Fair (Germany), AEE (Vegas), ANE (Vegas), AVN (Vegas), BondCon (NYC and Vegas), FetishCon (Tampa), FetFest (Maryland), BoundCon (Germany) Black Rose (DC), Diabolique (Philadelphia), Demonia (France), DomConAtlanta, DomConLA, Kink Fest (Oregon), and LA Erotica just to name a few!
(April 2019 archive) More archives