It's back! The extended 5 hour scene special at the Pittsburgh Compound until the end of August.
If you have visited the Pittsburgh Compound previously for extended play you may inquire!
Hello I am Ms Irene Boss.
Please adhere to my guidelines in order to be considered. Private introduction via email or phone call are the ways to discuss an audience with me. Scene information is available by scrolling this webpage. Do read this entire page before making contact.
I am based at The Compound in Pittsburgh Pennsylvania
I am at the Compound until July 25th, August 1st - 31st
September 1st - 19th, and 26th - 29th
October 9th - 10th, 17th - 24th and the 31st
I am visiting: DC Metro: July 27th - 30th
Houston Texas September 21st - 24th / Sinical Ball September 23rd
The Complex in Orange County: October 4th - 8th
London England October 12th - 15th
Fetish and Fantasy Halloween Ball - Las Vegas Nevada October 28th
Not available in Pittsburgh on the following dates:
July 26th - 30th, September 20th - 25th, September 30th - October 8th, October 11th - 16th, October 25th - 30th
Mistress Shane visits the Pittsburgh Compound September 8th - 10th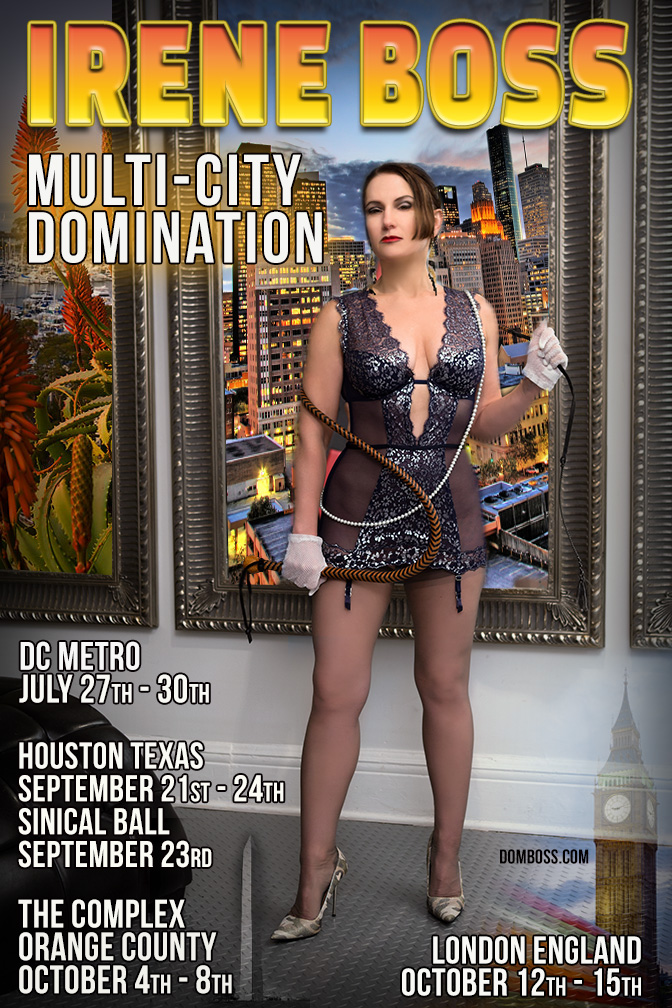 "Let 'Em Eat Cock" 50 minutes

(part of a double feature)

Sploshing madness!

Beach House Beatin': Short story shorter. Vacation with Cockmommie gets ugly, but interesting for Jillian. Lots of verbal abuse, food humiliation and a good home grown beating...sound familiar?

Cruising for catholic girls can be fun, especially if your therapist recommends it. Cockmommie is having a mini-meltdown about getting laid, so she calls Dr. Veronica Bitch for an emergency in-home session. After a brief evaluation, the Dr. advises Cockmommie to get out and find herself some fresh stuff to satisfy her sadistic sexual urges. Driving through the south side of Pittsburgh, Dr. Veronica at the wheel of her Hum V, they come across a religiously ripe specimen for the plucking. Using her psychopathic skills, Cockmommie easily lures Muffy, with promises of sweets & such, into her car. Now at the Mommie ranch, Muffy is wondering when the candy will be produced. The perverted pair handcuff Muffy for an assisted walk upstairs, leading her ever further down the wrong side of the tracks. Placed in a closet converted jail cell, they tease the little candy fiend with red lletemrice and hard cinnamon drops. A birthday party is announced to keep tanned tart happy. Whose birthday? Who knows and who cares, Muffy just wants the candy. The lust of the dastardly duo begins to take shape in the way of a light paddling on the perfectly rounded bottom of our delicious damsel. Dirty dancing soon follows as Muffy gyrates and grinds on the Dr., now sporting a pink woody, which is orally serviced; while Cockmommie downs a cocktail and jerks her own junk. Muffy then gets her muffin stuffed six ways to a hot fudge Sunday via the very horny Veronica. Camcorder in hand, Cockmommie records the action for obvious reasons. The flexible fuck-toy is very impressive, especially when she takes Mommies' monstrous meat missile like a champion cheerleader. Liberties taken, a sugary offering is now delivered by way of cake, candles, beads, noisemakers and a tiara for the princess. The party perpetuates into a visual mind bender of brown goo-smeared bodies. The chocolate covered cutie then gets driven from the rear by the Dr., as she sucks on a hunk of fudge covered Mommie meat…but there's more to muffy than just her sweet tooth…to be continued…

"In the Company of Ms Demore"

(Member's content in high resolution .mp4)

65 minutes View now

Miss Demore owns a successful adult toy manufacturing company and attends a convention in Los Angeles accompanied by her sexy irreplaceable assistant Ariel (whom Miss Demore has been lusting over for quite some time). Unable to control her amorous urges, Miss Demore summons Ariel to her room. Ariel is taken aback by the sexually aggressive intentions of her boss. Miss Demore seduces the young assistant with feverish intent. The two business beauties engage in a private meeting which includes heavy wooden paddling, forced kissing, nipple torture, pussy spanking, ass eating, pussy eating, flogging, dildo gags, strap-on play, breast caning, hair brush pussy paddling, rope bondage, double dong dildo play and the testing of a secret Russian prototype sexual stimulator. What fun it is to be the boss! Dripping hot with authentic BDSM sex and filmed with two of the top fetish stars inthe business: Natali Demore and Ariel X! Original musical score, multi-angled split screens and an animated version on the same disc highlight this magnificent film This DVD is a keeper! Order yours now!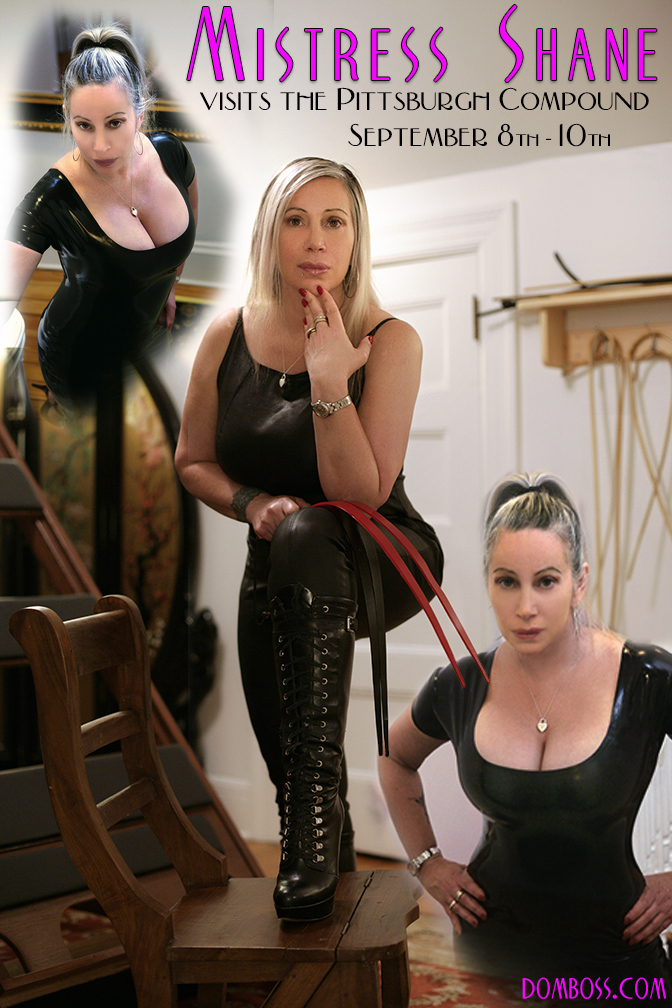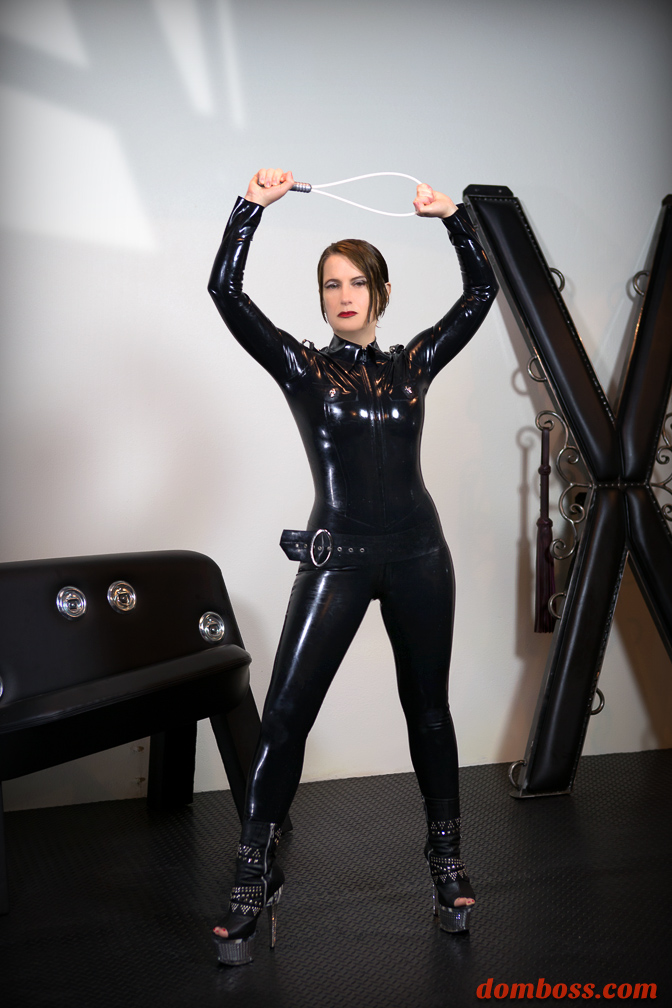 Director's Cut DVD sale! Shipping and handling included in the US


Select films are being converted into large format .mp4 segments. New content is being added.
Amazing Offer: Nonrecurring 4 months for 49.95. It's a great time to join DomBoss.Com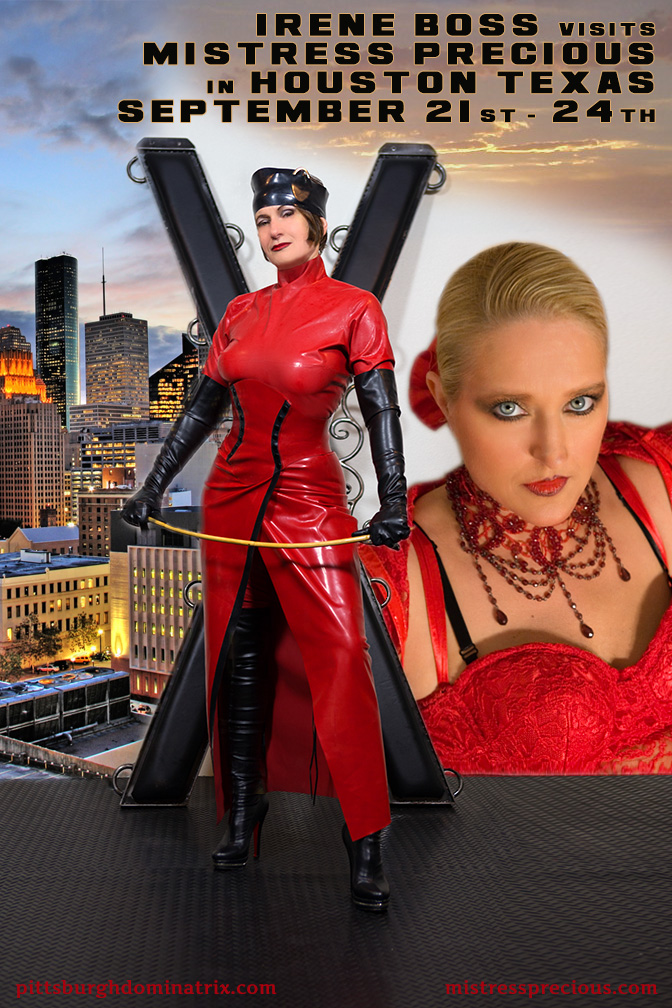 A listing of the Luscious Ladies in MIB films!
BossDVD.Com! Titles available at adult stores near you.

A huge amount of content! Click here for the video content you will see when you become a member
(List generally updated every other month or so)
Lengthy trailers from new DVD releases, full length web movies and full length DVD features.
MIB Productions FemDom DVDs is an industry benchmark standard for Female Domination Films
Boss DVD.Com has presented booths at the Venus Fair (Germany), AEE (Vegas), ANE (Vegas), AVN (Vegas), BondCon (NYC and Vegas), FetishCon (Tampa), FetFest (Maryland), BoundCon (Germany) Black Rose (DC), Diabolique (Philadelphia), Demonia (France), DomConAtlanta, DomConLA, Kink Fest (Oregon), and LA Erotica just to name a few!
(June 2017 archive) More archives