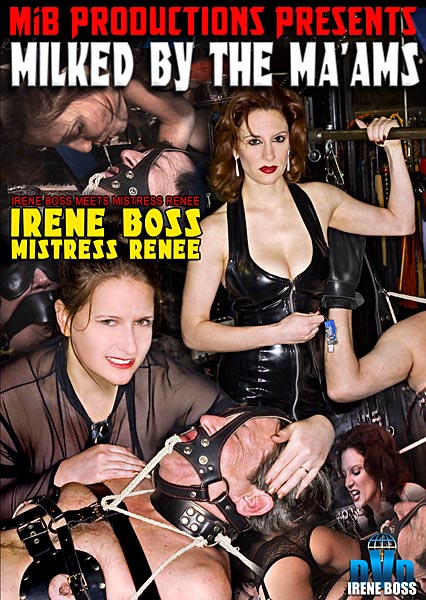 Milked By The Ma'ams
Free
Scene 1: Slave hardenough has no idea what he has gotten himself into by volunteering to fly out to the Compound at the last minute to appear in a video with the illustrious Mistress Renee of Philadelphia and Domina Irene Boss. He is bossed
into seated suspension electric CBT style including legs spread wide with electric nipple torture, catheter and butt plug. The Ladies have no mercy for his cock and balls. Who would have thought? He receives a punishment on both thighs of tandem birching and caning. He is whipped and flogged while hanging in midair. Ladies intight rubber mini dresses, hose and heels. LEGS LEGS LEGS.
Scene 2: Heavy duty full body restraint, face sitting, crotch sniffing, mouth to mouth spitting, electric cock ring, head bondage, CBT, breast worship teasing and nipple play. He is forceably milked by hand to orgasm by the cunning cougars and made to eat his liquid lunch after a bizarre "deal" he makes with the Boss. Lots of teasing and sexual innuendo, graphic sex and body part talk. HOT HOT HOT for you verbal humiliation whores and dirty panty sniffers. Irene and Renee both in classy see through lingerie for fetishists of panties, stockings, hose and heels, garter belts, sheer robes and open toes shoes. MESS YOURSELVES!


To View Longer Trailer!