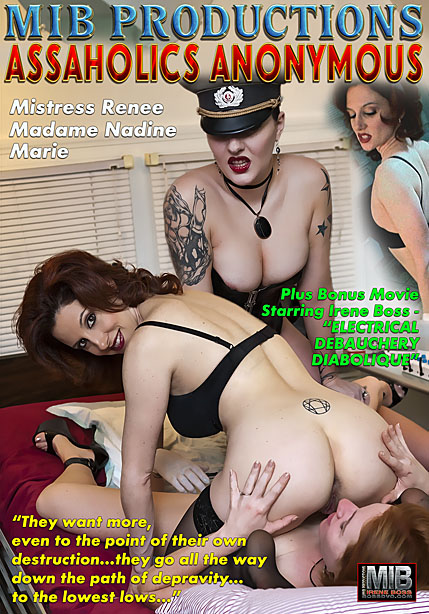 Assaholics Anonymous/Electrical Debauch Diabolique
Free
Assaholics Anonymous - Vanessa has a problem. She is obsessed with ASS! Gaurdess Cock Mommie Madame Dr. Nadine (what a mouthful) has invited a specialist to the rescue - "Dr. Anderson Smith AKA Mistress Renee" from Philadelphia. ASS obsessed Vanessa runs up the stairs hoping to challenge the sexy specialist she has heard so much about with her extreme fetish, but Dr. Smith prevails in blowing her brain gasket with radical therapy methods proven to cure sexual addictions. Vanessa is in denial. Watch what ensues. Hot female ASSES going up the stairs. ASSES encased in girdles, t-backs and stockings and frequently - encased in nothing at all. ASS insertions, full ASS worship, female masturbation, ASS smelling, ass licking, rimming, cavity search, vaginal strapon on, ASS tasting, straight jackets, DP, verbal humiliation, ASS to mouth, erotic spitting mouth to mouth, and ASS dialogue. Vanessa announces that Dr. Smith's ASS tastes like peaches! Radical ASS addiction therapy with very unorthodox methods. Dr. Smith introduces her own ASS. Yes it's all about the ASS. Intimate tattoos in hidden places on display and erotic verbosity that would make even the most hedonistic fetishist blush. Heavy hand spanking for unwelcome touching. Violet wand therapy. Electrical ass insertions. ASS OVERLOAD. You have
arrived. After it has been determined that there is probably no cure for Vanessa (after an extremely erotic and sexual anal exam) it is determined that specialist Dr Renee will need to force feed the fetish to cure her. Watch the DVD. ASS or air? You decide. 45 minutes of ASSTASTIC action from MIB Productions.
Electrical Debauchery Diabolique - The slave is bound to the new multi bench in the CBT position. He cannot move anything but his high heeled shoes. He is gagged, corseted, and collared taking a myriad of Irene's torments. He is a leg fetishist. First she teases him with her strong pantyhose covered stems, and once he is excited she experiments with one of her own electrical devises (she designed) on his nut sack. He is catheterized with a sparkler and electric bi-polar nipple vices are attached for a ride you won't believe!
Film two - The slave is encased in pantyhose and it is the first time Irene has done this type of bondage, so she is very excited about it. She uses 10 pairs of hose! He is made to perform shoe worship. He must clean his precum off Irene's favorite heels. (His first time performing shoe worship) A humbler is placed on his balls. She holds him down with her foot and shocks his balls repeatedly with the violet wand. Extreme electrical CBT torment!


To View Longer Trailer!