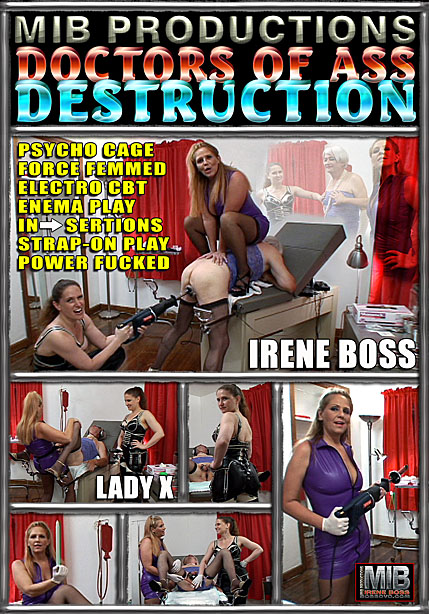 Doctors Of Ass Destruction
Free
Scene 1: Sissy Lynda is being interrogated after her kidnapping by medical asylum doctors Irene Boss and Lady X, by means of poking wooden rods through cage bars to keep her deliciously still with the use of flashing strobe lights as a means of mental torture. house slave Demitri lends a hand. How humiliating for Lynda, not knowing that another male slave was going to be present. Mistress Boss in yoga pants and Chux sneakers and Dom Lady X in Capri pants and heels. Casually and stylishly sexy! The Ladies have the sissies tiny clitty in electric chastity.
Scene 2: The manhood bandits! A complete military medical exam is in order. Ladies in luscious latex and Lynda in slut attire. An enema punishment. Ms Boss fingers the bitch and then wipes the ass juice repeatedly under it's nose. The transformation continues with nipple shaving. An antique vibrator is used for treatment and a pin wheel for CBT. Cruel and unusual proctology! Speculum inspections and scoping begin along with the Nova Pro. The Ladies take turns with their strapons. The final experimental procedure takes place with the ass hammer! Ms Boss is rude, witty and sarcastic. 68 minutes.


To View Longer Trailer!