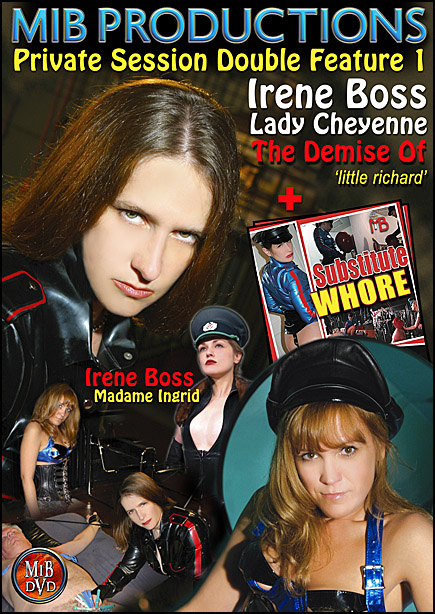 The Demise Of Little Richard - Substitute Whore
Free
The Demise Of Little Richard - Scene 1: Watch the infamous Richard 50 get beat up by two girls! The Mistresses begin by assaulting him while he is bound to the floor and forced to look up at them. Irene takes a riding crop to his feet, while Cheyenne flogs his chest. He is blindfolded, and also made to wear the Nova Pro while the Ladies continue their torture. He is face sat by Irene. Clothespins are placed all over his body several times, and the 2 Mistresses kick them off with their open toed high
heeled shoes and step on his cock. He is hoisted upside down in a straight jacket for belly punching, and barefoot belly kicking. He is frequently kneed in the stomach and kicked in the balls. Scene 2: Little Richard is placed in the caning stockade in the corporal detention center. The ladies warm him up with a good strapping, tawsing, and paddling. The razor strop, Scottish tawse, evening star, and lady spanker are all put to good use. Little Richard is forced to count
during his punishment. He receives a stern caning from both Ladies - first with traditional bamboo canes, then with the carbonite and white lightning implements. He is placed over Cheyenne's knee for a good old fashioned bare bottom paddling while Irene holds his head in between her legs. The Ladies trade places and Irene gives him a very stern and severe hairbrush spanking while Cheyenne holds him still with her legs. Irene gives him 12 bullwhip strikes while he is fastened over the punishment box. Scene 3: Little Richard is suspended by the wrists on his knees and the ladies take turns punching and kicking him in the stomach. They wear pointy toed fetish shoes for maximum sensation. They also kick him with their bare feet simultaneously. For the kicking and punching enthusiast.
Substitute Whore - Irene Boss and Madame Ingrid are angry! The whore house has not provided the whore they wanted for their amusement. They wanted a whore who could poop on cue and take large toys and a good whipping, but instead they got a low ranking "substitute whore" who can take very little. Listen to Irene shred his ego in a verbal onslaught of humiliating tyranny. Many activities are explored. Strap on sucking, bondage, humiliation, kissing Mistress's beautiful ass, and footworship. Absolutely hilarious!


To View Longer Trailer!