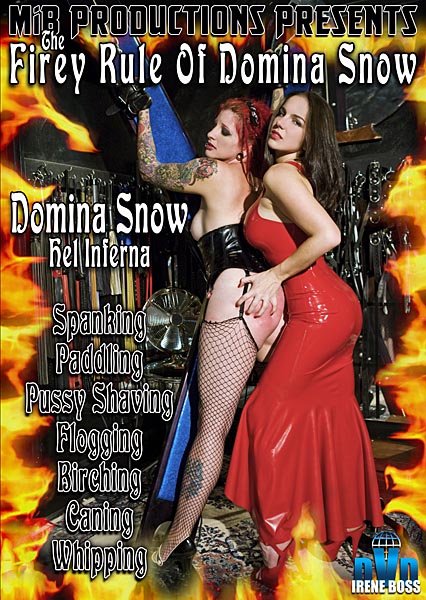 The Firey Rule Of Domina Snow
Free
Slave sally gets a hard lesson in protocol from visiting Domina Snow, when she applies for the position of housegirl. Domina Snow is appalled with Sally's attire not to mention her smart ass attitude. Strictly questioned and stripped to her horrid green panties, Sally crawls the hard wooden staircase only to be stopped on the third floor landing just outside the sacred Compound dungeon. A good bare hand spanking starts things off, with Sally being reminded of how to properly address the Mistress. Up against the wall in the prone position, sharp swats are delivered by various paddles culminating into a fine strapping. Panties removed for inspection, Sally is then sent to the medical room for a proper pussy shaving at the steady hands of Domina Snow. Properly prepared, Sally is now ready to be put through her paces in the Gothic Dungeon. Bound to a one of a kind custom tilting St. Andrews cross, Domina Snow delivers a delight of corporal correction to the now reddened rear of the whimpering wench. Flogged birched, cropped, metal paddled, caned and single tailed by Domina Snow...what a rush for a newbie!
MIB Productions welcomes Hel Inferna (AKA sally spanks) to the ranks. See more of this masochistic misbehaver in upcoming MIB releases! Domina Snow in long firey-red latex dress with matching high heels and surgical blue-green apron for the shaving scene. Hel wears black leather corset, black
fishnets, and black and white piped heels. Great Girl/girl chemistry in this strict and sexy fun corporal feature!


To View Longer Trailer!