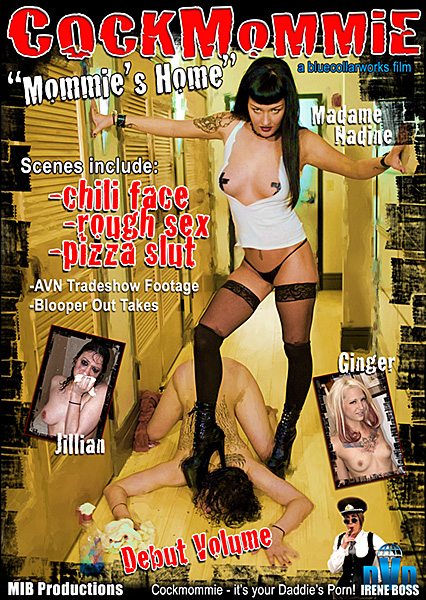 Mommie' s Home
Free
Mommie's Home! The Debut! Introducing Madame Nadine as COCKMOMMIE and both Jillian's and Ginger's debut on film - the pilot of the Cockmommie series!
Chili Face: Mommie comes home (after a hard day of nothing) and finds Jillian making vegetarian chili for dinner. How freaking lazy! Whatever. She explodes and decides to make Jillian wear it and then she must tongue polish Mommie's boots in the bathroom while Mommie sits on the can smoking. Splosh, food humiliation, bootworship, bare bottom corporal and a sadistic sexy "shower show" with soap in the mouth punishment. This will teach you to have proper dinner ready when Mommie comes home!
Rough Dirty Sex in the dungeon at the Compound: DP with anal and speculum exam, searing hot wax treatment while restrained in the sit sling. Doggie style, hair pulling and strap on blow job with verbal humiliation.
Pizza Slut: Hungry Cockmommie is tired and resting her feet after a long day on the show floor at the AVN. She orders room service. Ginger the delivery girl is persuaded to stay for a drink and poker. Guess what? It's Ginger's 21st birthday and Cock Mommie wants a piece. Mommie slips her a mickey and bangs the little worker bee to hell and back. Screwed on the bed, forced to eat her pizza, coffee table sex with chocolate covered cherries and a hot bathroom scene complete with lots of screaming and kissing. COCK MOMMIE - It's your Daddie's porn and it's hot. Get yours now!!!