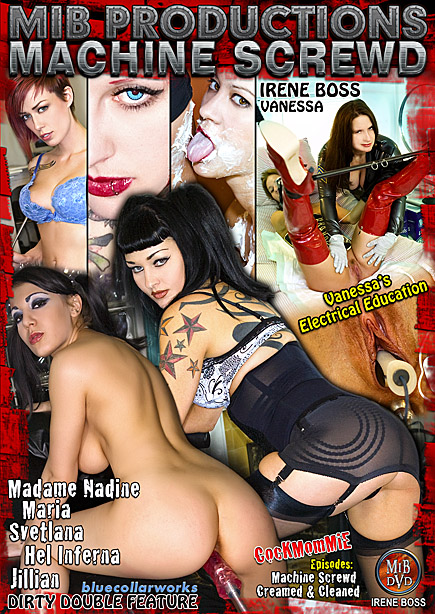 Machine Screwd-Vanessa's Electrical Education
Free
LESBIAN / FUCK MACHINES / DEMONSTRATIONS
Machine Screwd: Madame Nadine, (Cockmommie), has her work cut out for her when she hires two personal trainers to keep her new bodacious house girl Maria in shape. Despite attempts at conventional fitness with Svetlana and Hel Inferna, Maria has an exercise plan of her own. She discovers various dildos and a fucking machine amongst Cockmommie's home gym equipment. Maria is caught sexercising herself. After a good stand up bare bottom spanking, she is taken upstairs to the sex lounge for a thorough speculum exam and more fuck machine training. Downstairs at the Compound, a domestic discipline scene is in progress with a most unusual implement - a broken kitchen table leg. Mouthy trainer Hel Inferna gets her comeuppance! Introducing Maria, Svetlana and Hel Inferna to the allstar Cockmommie cast!

Creamed and Cleaned: Cockmommie comes home to a filthy sty at the hands of house brat Jillian. Jillian is used for target practice as Cockmommie wings and flings whipped cream and frozen potato nuggets. A splosher's delight! Jillian's voluptuous naked raised ass is decorated with more cream and whacked repeatedly with a very hard red plastic mixing spoon until it breaks....OUCH!!! Jillian then gives Cockmommie a good washing in the shower.
Vanessa's Electrical Education: Meet Vanessa! She had been watching too much TV again and needed to be "reprogrammed", so when the Rimba company decided that MIB Productions (BossDVD.Com) should film an electrical commercial for their toy business, Irene was just too happy to put Vanessa through her paces in this electrical educational endeavor. Irene demonstrates many new electrical devises by the rimba company and lots of toy attachments too. All her naughty bits are explored. The experiments were a success and Vanessa is all better now thanks to kinky Dr. Rubber Boss and Rimba!
iPod MOVIE


To View Longer Trailer!