Scroll the full page for updates!

Just reloaded to members in higher resolution .mp4!
"Private Sessions Spanking"

90 minutes.

Ms Boss in various lingerie and marabou slippers giving extremely hard over the knee spankings and hair brushings to a New West/Leda devotee.

Ms Boss prevails in disciplining him!

Intense foot worship with Boss in many sexy slipper styles!

All action take place in the schoolroom.

Not scripted, just real action.

Ms Boss was is in Chicago August 26th - 29th!

Just reloaded to members in higher resolution .mp4!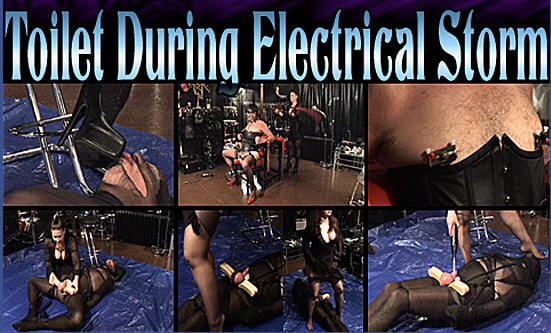 "Toilet During Electrical Storm!" 60 minutes. The slave is encased in pantyhose and it is the first time Irene has done this type of bondage, so she is very excited about it. She uses 10 pairs of hose! He is made to perform shoe worship. He must clean his precum off Irene's favorite heels. (His first time performing shoe worship) A humbler is placed on his balls. She holds him down with her foot after peeing all over him and shocks his balls repeatedly with the violet wand. Extreme electrical CBT torment. A GS treat too! Join to view

3 classic films just reloaded to members in higher resolution .mp4!
"Hanging Whore" what's in store!

The slave gets placed in seated suspension, spanked, electrically fucked, caned, and verbally taunted while I discuss the various "reasons".

At the end I decide to change "her" hair color. Consensual/Nonconsensual play of course...this means that the slave understands that the Mistress does what She wants - not what the slave wants!

"Sissy for Two" The pink sissy is made to crawl across the room to the gorgeous Goddess Claudia. She suspends him in a spread eagle bondage position. She plays with his nipples and humiliates him about his erection, cropping clothespins off of it. She crops his cock and nipples repeatedly and then moves him to the pillory for a good flogging - double and Florentine style. Then she puts on a strap on dildo and fucks his face! Enter Irene, who decides to "enter" the slave! He sucks Irene's cock and then she plugs him. Irene suspends him upside down with electric CBT. He receives a good upside down strap on fuck while Goddess Claudia laughs. He is transferred to the sling for an electric toy treatment. A split scene at the end and he is made to consume his nasty cumcocktion. 35 minutes - view now!

"You are caned"

Naughty neighbor gets caught snooping through the mail!

Face slapping, paddling, spanking, caning, foot worship, punishment lines.

Boss wears sexy fishnets and a black leather bikini with 5" black leather high heels under a dress, which is removed in the middle of the video. Takes place in the schoolroom at the Compound.

Reloaded to members in higher resolution .mp4!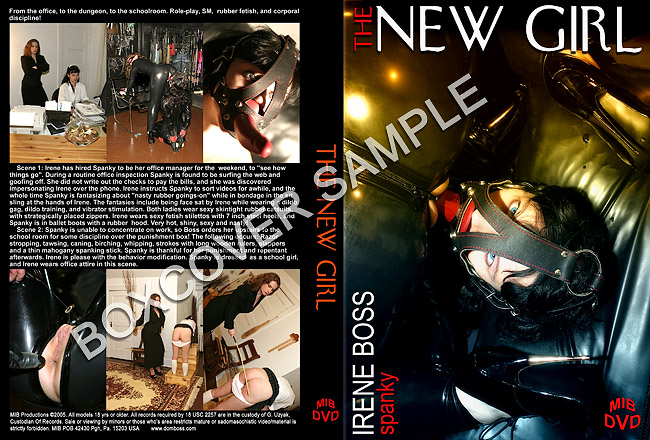 "The New Girl" 39 minutes LESBIAN BONDAGE / RUBBER / DILDO GAGS
From the office, to the dungeon, to the schoolroom. Role play, SM, rubber fetish, and corporal discipline!
Scene 1: Irene has hired Spanky to be her office manager for the weekend. During a routine office inspection Spanky is found to be surfing the web and goofing off. She did not write out the checks to pay the bills, and she was discovered impersonating Irene over the phone. Irene instructs Spanky to sort videos for awhile, and the whole time Spanky is fantasizing about "nasty rubber goings-on" while in bondage in the sit sling at the hands of Irene. The fantasies include being face sat by Irene while wearing a dildo gag, dildo training, and vibrator stimulation. Both ladies wear sexy skintight rubber cat suits, with strategically placed zippers. Irene wears sexy fetish stilettos with 7 inch steel heels, and Spanky is in ballet boots and head harness dildo. Very hot, shiny, sexy and nasty! Scene 2: Spanky is unable to concentrate on work, so Boss orders her upstairs to the schoolroom for some discipline over the punishment box! Razor stropping, tawsing, caning, birching, whipping, strokes with long wooden rulers, slappers, and a thin mahogany spanking stick. Spanky is thankful for her punishment and repentant afterwards. Irene is pleased with the behavior modification. Spanky is dressed as a school girl, and Irene wears office attire. Join to view

3 classic films just reloaded to members in higher resolution .mp4!
Find out what happens to little johnny when chores aren't finished!

Role play.

Severe corporal discipline, with many implements.

Spanking horse, tawse, razor straps, rulers, custom made paddles, corner time and verbal.

The spanking horse is put to use after a good OTK warm up.

Irene Boss wears a white satin strapless corset with a black slit skirt and sensible shoes.

Takes place in the schoolroom. Join to view

Irene and her assistant are getting the distribution orders ready to go out. Stan gets rude and sassy. The Ladies punish Stan with heavy bondage, tickling and very heavy spanking. Christine straps Stan's behind so hard she breaks Irene's razor strap! They tickle Stan so intensely he starts to cough from all the laughter. He is smothered by Irene in black pantyhose, while Christine continues tickling his helpless feet and strapping his exposed tender bottom. Join to view
Officers Irene Boss and Goddess Amazon find out that sub slut soldier Nathalie is not wearing her army issue regulation underwear. She is placed in strict bondage and tickle tortured to confess. Nathalie has been performing sexual favors. Irene lets her have it with unrelenting teasing and denial. She is brought close to orgasm many times... Join to view

UK Mistress Miranda visited August 2nd - 4th!

Mistress Miranda says:

A little about me: Past

Since a young age I have had an interest in domination, and experimented with bondage as a teenager. I always joke that I was born a deviant lol!!! As my interests expanded, I began 'playing' in a semi-professional level whilst at university. After graduating, and succeeding in getting a 'proper' job in the field that I had trained in, I realised that the area which I excelled in and most enjoyed was BDSM. For me my art is a vocation, as opposed to a 'job'. I never feel like I'm 'working' and I look forward to each of my sessions as everyone is different. My day is never predictable or boring and the people I meet make my life fulfilled; many I consider personal friends.

And now: Present Day

I am both a lifestyle player and Pro-Domme who has been active in the scene for 18 years which has given me a vent for my kinky tastes. All you lucky subs who session with me, whether you are a novice or experienced slave, will benefit from my wealth of experience and genuine interest in the BDSM world.

I am fanatical about fitness, working out 5-6 times a week to make my body toned and hard which you will see evidence of in my latest photos and videos (on the Members Site). I love new pieces of equipment and unusual custom outfits which keeps my sessions fresh. In the Members Site you will see constantly updated fetish images, videos, roleplay and on this site a current Mistress Blog which will detail some of my kinky fetish fun. Oh yes! I am living the dream.

New Galleries with never before seen images of Ms Boss
54 images - super hi res!