The Arena of Evilena! 40 minutes

Free .flv trailer (members content in .mp4)

At the Compound Goddess Evilena is showing Ms Boss her slave "little twat". The Ladies place the miscreant upside down and prepare it as a heavy punching bag for arm and leg work. It's cock and ball area is frequently addressed. The cowardly cunt frequently snivels at his treatment, but the Rubber Ladies don't care. He is hoisted higher for kicking. Then he is removed from suspension and thrown across the couch. Goddess Evilena begins a hypnotic trance on him so he will be able to take CP discipline. The Ladies experiment with hypnosis as a vehicle to program him to become WEAKER. He is rewarded with some worship of Goddess Feet, and then restrained to the spinning bondage table for boxing practice with MMA gloves. He is turned like meat, squeezed and whipped by Ms Boss on the front of his body. While Ms Boss turns him to be restrained the other way, Goddess Evilena discusses how she has used hypnosis to train him over the years. She demonstrates some more punches on his hind. He is then spanked and flogged in preparation for more whipping by Ms Boss. At the end of filming, Goddess Evilena and Ms Boss thank each other for their expertise and the chance to learn new BDSM techniques.

product comes with 30 minutes of trailers from other films!

Balls of Destruction!

40 minutes

Free .flv trailer (members content in .mp4)

Ms Boss invites Thora Nang to her private studio Top Secret in Pittsburgh Pennsylvania (circa 2010) where they are going to be spending some time relieving stress upon personal slave footsucker. He is positioned on the cross awaiting their ministrations. They inspect his man meat. First he will be flogged, paddled, cropped and then marvelously whipped and caned by the 2 Ladies. The Ladies crop, cane and torment the nut sack. Ms Thora is evil, sweet and petite and the slave has a BDSM crush on her. The action moves to a bondage table with the miscreants head encased in a smother box, and limbs encased in medical restraints so Ms Thora can have her way smothering him with her latex encased ass, and force feeding him her tasty bare feet. A tantalizing toe tease! Ms Boss uses her electric massage gloves for an interesting CBT treatment. The Ladies then trade places and he is smothered by Ms Boss's latex covered bottom and pantyhose encased feet. Ms Thora revs up the violet wand with various attachments and enjoys zapping his man meat and nipples. The chemistry is electric with the sexy sadistic Ladies in rubber dresses.

product comes with 30 minutes of trailers from other films!

Mistress Alexis Kim visited the Pittsburgh Compound December 1st and 2nd
Ms Thora Nang visited the Orange Complex December 19th - 30th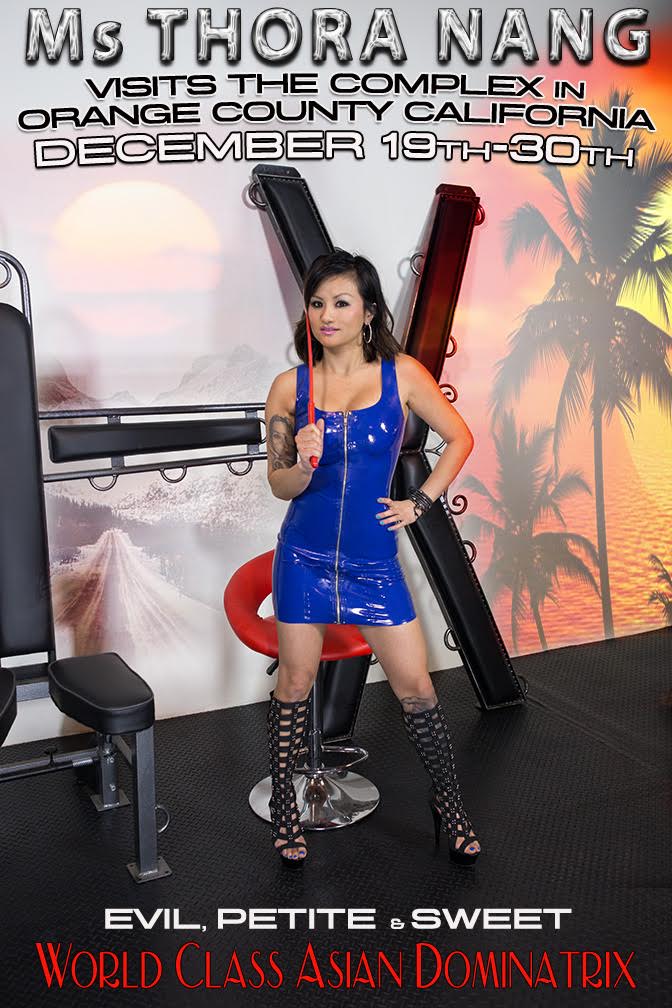 A listing of the Luscious Ladies in MIB films!
BossDVD.Com! Titles available at adult stores near you.

A huge amount of content! Click here for the video content you will see when you become a member
(List generally updated every other month or so)
Lengthy trailers from new DVD releases, full length web movies and full length DVD features.
MIB Productions FemDom DVDs is an industry benchmark standard for Female Domination Films
Boss DVD.Com has presented booths at the Venus Fair (Germany), AEE (Vegas), ANE (Vegas), AVN (Vegas), BondCon (NYC and Vegas), FetishCon (Tampa), FetFest (Maryland), BoundCon (Germany) Black Rose (DC), Diabolique (Philadelphia), Demonia (France), DomConAtlanta, DomConLA, Kink Fest (Oregon), and LA Erotica just to name a few!
(November 2017 archive) More archives