OUTDOORS / PONY BOY / FOOT WORSHIP / SHOE WORSHIP / BALL KICKING

"Punishing the rickshaw driver"

Excerpt from a best selling DVD VIEW HERE 28 minutes! Irene's slave is giving her a rickshaw ride in Frick Park at 6 am one cold blustery November day. The park is silent, it's just Irene and her slaves in the cold morning air with the falling leaves and the early morning sun. Giddy up! Then it's time to return to the Compound. He is placed on the floor while Irene tramples his balls for awhile in shoes and then stocking covered feet. He is forced to kiss and worship her feet after some ball kicking, and he must lick her gorgeous black patent platform fetish shoes. Irene looks very sexy with her long flowing hair, black leather Colette corset, and seamed stockings. She is in a very bitchy mood however because she is on her period. As a reward for taking the pain, he is brought down and allowed to worship her bare feet. She has French pedicured toe nails and alabaster skin.

$29.95 + 10.00 S&H- MIB POB 42430 Pittsburgh PA 15203 (412 362 6883)

Member's Writing! "A double medical account" by patientsub of the FemDomScene.Com messageboardI waited in the designated place for Dr. Boss' SUV to pull up. I had been anticipating this dual session for over a month. I had been preparing as ordered all morning making sure I was clean inside and out for this visit. Ms. Boss had told me that I would be submitting to a new experience- a dual fisting. I saw the powerful black vehicle round the corner and my heat beat faster as I moved closer to the street. The vehicle zipped through other traffic and mounds of snow to stop right in front of me. I opened the rear door and lay face down on the seat as previously directed. The car was moving before I knew it and we began the series of sharp turns that led to TOP SECRET amid a background of haunting music from the vehicle's sound system. Soon I was being led into the heart of the secret facility, the door being firmly locked behind me. Other than the instruction to remove my shoes, Mistress had spoken not a word since I had gotten in the car. Now I was told to go into the bathroom, get ready and wait by sitting on the toilet. The door closed on me in this closet sized room as I heard Her footsteps recede. Undressing and freshening up I then sat and waited with growing nervous anticipation. After a bit I heard two pairs of boots coming down the stairs. Stillness, then the door was suddenly pulled wide open, and Drs. Boss and Nang looked in at me humiliatingly sitting naked on the toilet. I was ordered by Dr. Boss to come out and to stand with my hands behind my back as I was introduced to Dr. Thora Nang. Dr. Boss was wearing a black latex jumpsuit and looking stunningly beautiful and imposing as usual. Dr. Nang in a short rubber dress was also very beautiful, with deep mesmerizing eyes. Both wore high-heeled black boots. After a brief introduction it was time to begin my treatment; each took one of my arms and propelled me to the ass bench. Read the rest here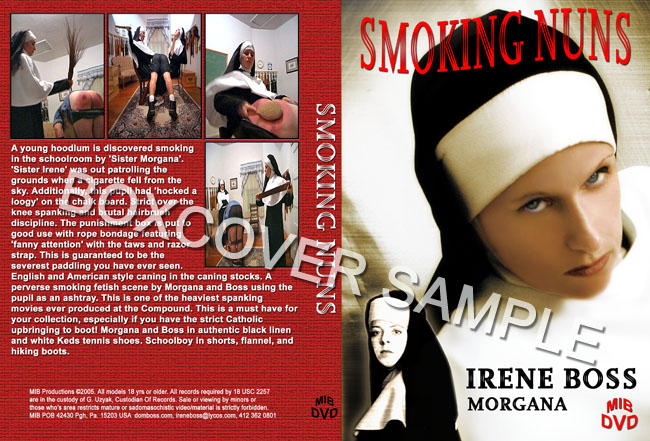 CORPORAL / SACRILEGE / CANING / OTK / HAIRBRUSH / BIRCHING / PADDLING

A best selling DVD "Smoking Nuns" VIEW HERE 58 minutes! A young hoodlum is discovered smoking in the schoolroom by 'Sister Morgana'. 'Sister Irene' was out patrolling the grounds when a cigarette fell from the sky. Additionally, this pupil had 'hocked a loogy' on the chalk board. Strict over the knee spanking and brutal hairbrush discipline. The punishment box is put to good use with rope bondage featuring 'fanny attention' with the taws and razor strap. This is guaranteed to be the severest paddling you have ever seen. English and American style caning in the caning stockade. A perverse smoking fetish scene by Morgana and Boss using the pupil as an ashtray. This is the heaviest spanking tape ever produced at the Compound. This is a must have for your collection, especially if you have the strict Catholic upbringing to boot! Morgana and Boss in authentic black linen and white Keds tennis shoes. Schoolboy in shorts, flannel, and hiking boots.

$19.95 + 10.00 S & H - MIB POB 42430 Pittsburgh PA 15203 (412 362 6883)

Member's Writing! "An afternoon domestic session" by footsucker of the FemDomScene.Com messageboard
I arrived at Top Secret as instructed toting my cooler full of ingredients for the Ja Ma'am menu that Mistress Irene had selected for our naked chef adventure. I knocked on the door and waited patiently for my entrance to be granted. Only a second or two past, the door opened and Mistress Irene ordered me inside. I entered and Mistress Irene closed the door behind us. WOW! Mistress Irene looked magnificent dressed in a Red and Black rubber cat suit. My eyes absorbed Her splendor all the way down to Her beautiful bare feet. Mistress Irene quickly outlined the itinerary for the afternoon. "Take off your jacket, put the cooler in the kitchen and proceed to the dungeon. Go into the bathroom, take everything off and wait for Me with your hands behind your back." I immediately complied, removed my jacket, placed the cooler in the kitchen, made a b-line to the dungeon, stripped in the bathroom and waited humbly as instructed totally naked with my hand neatly behind me. Mistress Irene began to descend the spiral staircase to the dungeon, Her bare feet softly reverberating on the metal steps. I couldn't help to sneak a peak as Her fascinating feet came into view. OMG! my heart began to race. Her luscious legs encased in rubber followed, my pulse quickened more. Mistress Irene entered the dungeon, walked by with out saying a word and headed for a shelf in the middle of the room. Collecting my first adornment Mistress Irene returned in my direction. Holding a black leather collar and displaying a delightful smile Mistress Irene had me captivated from the start. I reverently bowed my head as She installed the collar around my neck. Flicking my nipple rings Mistress Irene smiled and said "We have to get something for these" making Her way to the weight rack on top of the fireplace Mistress Irene returned with a pair of brass weights. "These will be perfect She noted, just enough to make you notice them" She laughed as She hooked the weights onto my rings. Ooooh! noticed them I did as they stretch my nipples downward, their coolness touching my ribs. "Be careful how you move" Mistress Irene chuckled and instructed me to grab my camera and to follow Her upstairs. Read the rest here

RELOADED - 24.00 Caned, whipped, kicked and fucked CONSENSUAL-NONCONSENSUAL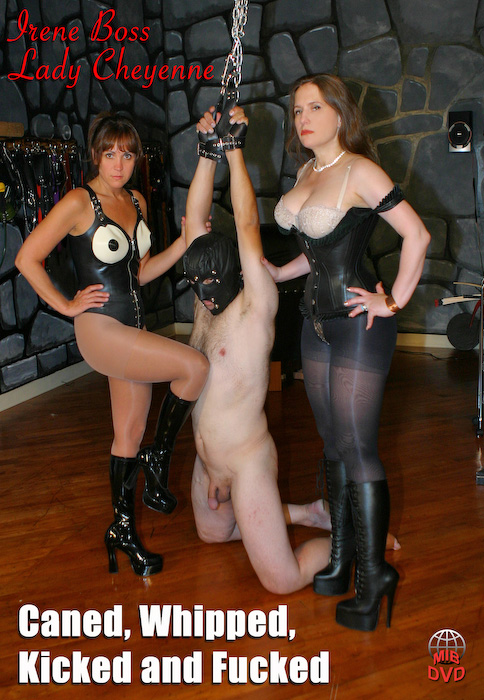 Caned, whipped, kicked, and fucked! Filmed at Lady Cheyenne's studio in Rhode Island. Lady Cheyenne wears a custom made rubber outfit and Irene in black leather corset with 8" high fetish boots. slave Chris is attached face down to the leaning St. Andrew's Cross in the center of Lady Cheyenne's dungeon. He is taking a caning while in nipple play predicament bondage; his nipple clamps are attached to the cross, and every time he moves from the caning he gives himself a nice painful sensation. He is also placed in predicament cbt ball bondage by Irene and Cheyenne uses the lash on him. Irene holds him to the cross while Cheyenne continues to give him the lash. He takes the cane one more time, and then Irene begin to discipline him with her signal whip. Irene warms him up while Cheyenne watches. A branding is discussed. Then Irene begins using her bullwhip. The slave is inspected and more bullwhipping occurs. He is then moved to a kneeling suspension position, with his arms overhead. Cheyenne begins kicking his balls. Then, it is Irene's turn. The slave is made to "present "his balls to the two Mistresses from more kicking. He is also kicked in the ass. Lady Cheyenne then engages the slave in some shaft kicking, first from behind and then in front. He is then moved to the large bondage frame for strap on play. He sucks Cheyenne's cock while Irene scolds and spanks him. He is reprimanded by Irene about his unkempt hole and asshole manners. Irene spanks him, leaves him plugged, and then watches him as he continues to suck Cheyenne's big black cock.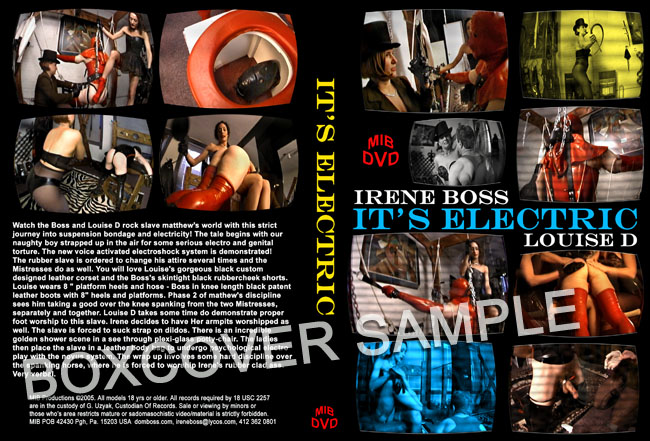 | | |
| --- | --- |
| | A best selling DVD "It's Electric" VIEW HERE 37 minutes! Watch the Boss and Louise D. rock slave Mathew's world with this strict journey into suspension bondage and electricity! Strapped up in the air for some serious electro and genital torture, the new voice activated electroshock system is demonstrated! rubber slave is ordered to change his attire several times and the Mistresses do as well. Phase 2 of Mathew's discipline sees him taking a good over the knee spanking from the two Mistresses. Louise D takes some time do demonstrate proper foot worship to this slave. Irene decides to have Her armpits worshipped as well. slave sucks strapon. $19.95 + 10.00 S & H - MIB POB 42430 Pittsburgh PA 15203 (412 362 6883) |

The Enemates!

A couple visit the clinic of Dr Boss and report to visiting Clinician Kelly Payne and resident Examiner Irene Boss.

Both erotic role play physicians suspect the male transmitted VD to the female.

Alternative therapies are in order!

Patients are restrained on the hospital bed and over the ass bench to be soundly spanked.

It's time for temperature taking, fingering, electro play, vibrating toy insertions and plastic dilators.

A caning of the male follows while the female takes an enema.

While the female patient releases in the bathroom the male patient receives an extreme CP punishment.

Ms Payne even breaks a hairbrush!

The female patient is strapon on trained while the male patient is enemized.

A surprise interesting domestic ending with a good old fashioned home punishment.

Many sexy moments await you in this extreme clinic escapade!

$29.95 + 10.00 S & H

MIB POB 42430 Pittsburgh PA 15203

(412 362 6883)

6 hours with the Boss! Scene photo gallery. 12 high resolution images. Join to view the fullsize!

Ms Thora Nang visited February 19th - 21st!