Two new writing pieces in members!
"Dom Con Days 1 - 3"
So let me start by saying what my little account is not. It's not a review; I do not view a domination session, professional or otherwise, or a dominatrix, professional or otherwise as products to be evaluated. Rather, this is a story about my experiences. Another thing this is not is unbiased; I am not emotionally detached from my experiences or from the Lady who was the author of them. In fact, a primary reason I engage in BDSM is to enjoy feelings of intimacy, affection and, yes, love, for the Ladies who play with me. So while Domina Irene Boss is not my partner or owner, the way Mistress Ellen is, I wouldn't seek her out to play with over and over again if I did not feel a great deal for her. In other words, what you're getting is the recollections of an admirer, not the review of an impartial consumer. With that out of the way, let me begin. Very lengthy written account in members
"First time scene with Irene Boss"
To think of Irene boss is to conjure up images of mythical creatures and monsters from ages old. She is the dragon in the lair, the lady in the lake and the unicorn in the forest all combined. There are tales of her insatiable appetite for sadism, her dungeon home to any and every toy imaginable her wardrobe that appears to be endless, multiplying and creating new forms of itself on its own. I became fascinated with Irene after buying some of her videos (at that time on vhs.) during one of the many discount specials she has. I was blown away by the filmmaking,Creativity and raw eroticism of her movies, craving more. Over the years I would amass A collection that would soon occupy 2 shelves on a very large bookshelf in my home. Very lengthy written account in members

57 minute full DVD download in members!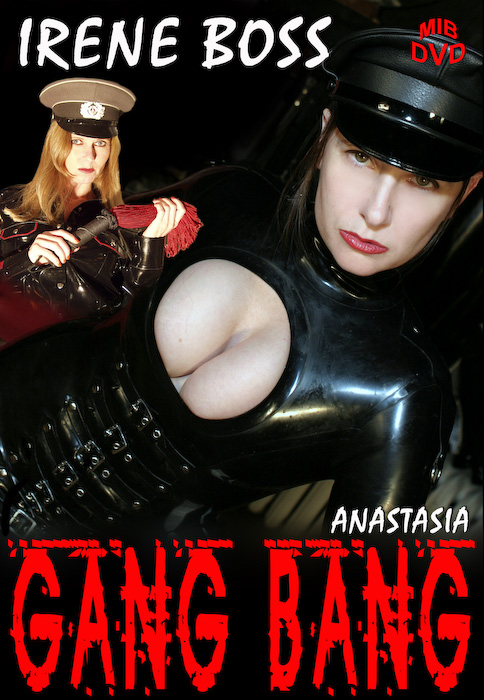 GANG BANG (57 minutes) Full film now in members! Find out what happens when the Boss and Anastasia tag team a hapless male slave! 'edwina' gets 'her' just deserts in this very severe two camera shoot! Featuring: cross dressing, face slapping, nipple torture, dt, bullwhipping, spanking, caning, paddling, foot worship, shoe worship, trampling, and verbal humiliation. Filmed in the schoolroom. The spanking horse, punishment box, and caning stockade are made use of. Boss and Anastasia in heels and hose. Excellent depiction of heavy play on a submissive male masochist. Join to view!

$29.95 + 10.00 S & H - MIB POB 42430 Pittsburgh PA 15203 (412 362 6883)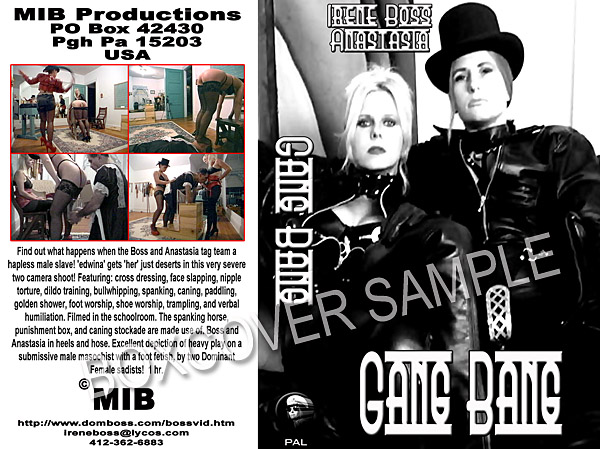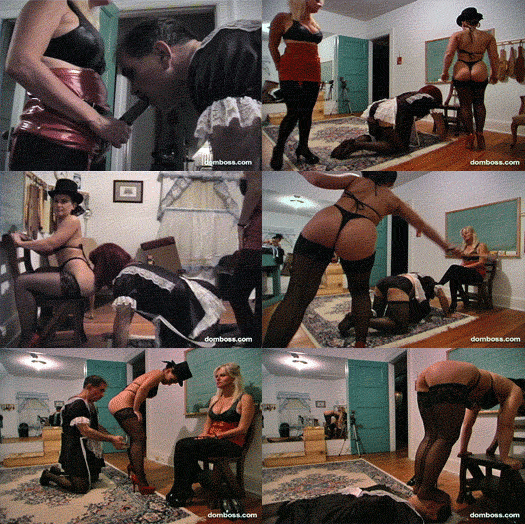 BossDVD.Com attended and exhibited at the annual Los Angeles Dom Con.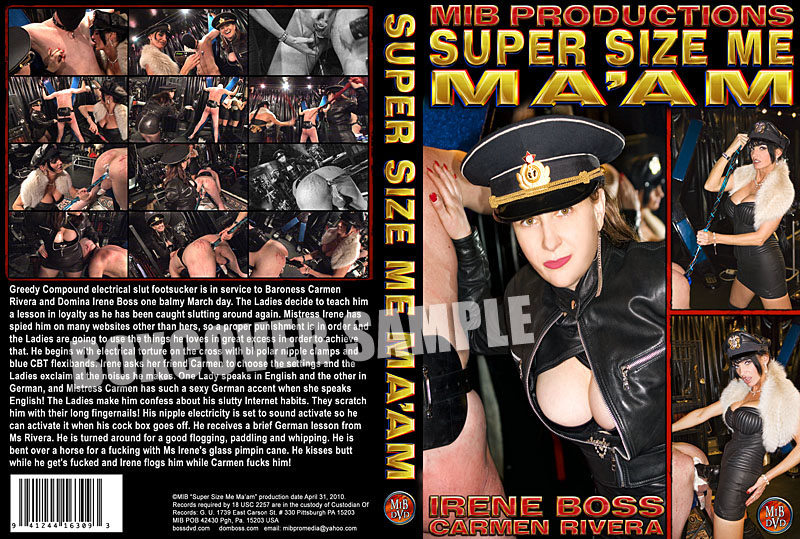 FREE TRAILER "Supersize me Ma'am" Greedy Compound electrical slut footsucker is in service to Baroness Carmen Rivera and Domina Irene Boss one balmy March day. The Ladies decide to teach him a lesson in loyalty as he has been caught slutting around again. Mistress Irene has spied him on many websites other than hers, so a proper punishment is in order and the Ladies are going to use the things he loves in great excess in order to achieve that. He begins with electrical torture on the cross with bi polar nipple clamps and blue CBT flexibands. Irene asks her friend Carmen to choose the settings and the Ladies exclaim at the noises he makes. One Lady speaks in English and the other in German, and Mistress Carmen has such a sexy German accent when she speaks English! The Ladies make him confess about his slutty Internet habits. They scratch him with their long fingernails! His nipple electricity is set to sound activate so he can activate it when his cock box goes off. He receives a brief German lesson from Ms Rivera. He is turned around for a good flogging, paddling and whipping. He is bent over a horse for a fucking with Ms Irene's glass pimpin cane. He kisses butt while he get's fucked and Irene flogs him while Carmen fucks him! 40 minutes. LONGER TRAILER IN MEMBERS!
$29.95 + 10.00 S & H - MIB POB 42430 Pittsburgh PA 15203 (412 362 6883)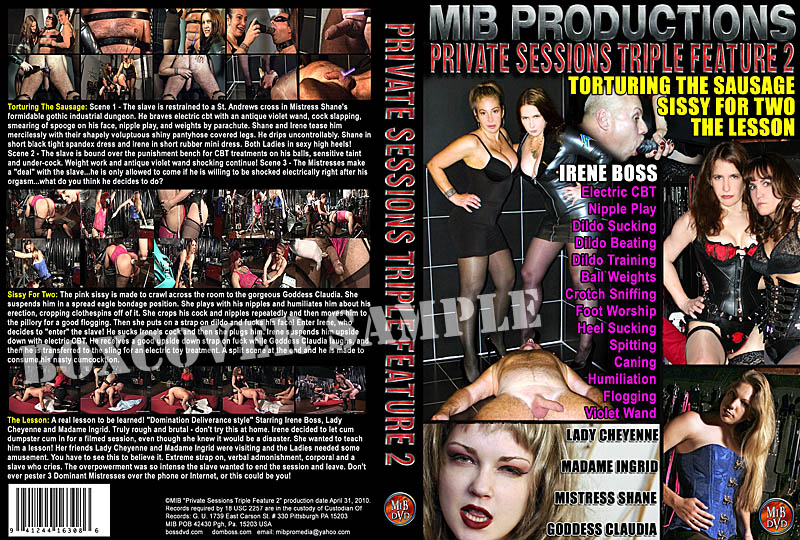 FREE TRAILER "Private Sessions Triple Feature part 2" How can you resist a 3 way circus like this? Three completely different fem dom films on one disc starring Irene Boss, Mistress Shane, Lady Cheyenne, Goddess Claudia and Madame Ingrid the Valkyrie! Two and three Doms against one poor hapless male subby. Featuring electro play, nipple play, crotch sniffing, foot worship, verbal admonishment, heel sucking, spitting, bondage furniture, cbt, caning, heavy corporal, humiliation, sissy training, strap-on, and consensual/non consensual play, guaranteed to rivet you to the screen. There is something for everyone in this treacherous triad. Bizarre and extreme! 1 hour and 45 minutes. LONGER TRAILER IN MEMBERS! $29.95 + 10.00 S & H - MIB POB 42430 Pittsburgh PA 15203 (412 362 6883)

New story in Members - "Return visit to the Boss"!
I made my appointment with Mistress Irene nearly 2 weeks before I actually saw her. The anticipation was brutal! The day finally arrived. I was instructed to wait for Mistress near Top Secret. She arrived and instructed me to sit in the back seat, as soon as we were on the road she made me lie down as she drove. It was somewhat disconcerting not being able to see where I was going. We arrived at Top Secret and Mistress pulled in to the garage. I was permitted to get up and out of the vehicle. We entered the dungeon and Mistress told me to strip and be waiting naked, on my hands and knees while she changed. I did as instructed and waited, surrounded by instruments of pain and pleasure. Very soon I heard Mistress' high heels on the floor above approaching the stairs. She came down the steps and walked around me. She allowed me to get up and placed a collar on my neck. She then showed me some of the toys, "Do you know what that is?" she asked, pointing to a large mechanical device, "it's a fucking machine" she said and start laughing in that low sensual laugh...

57 minute full DVD download in members!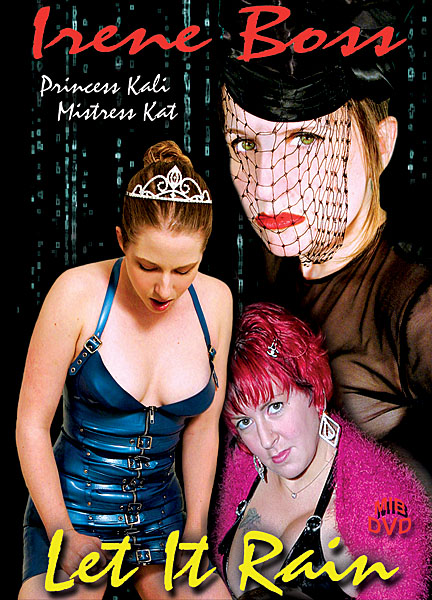 LET IT RAIN (57 minutes) Full film now in members! Scene 1 opens in the school room with a slave pouring champagne for the Ladies. While the slave is catching gnats which are attracted to the sweet smelling champagne (it was a warm rainy summer day) the Ladies verbally humiliate him. The Ladies drink quickly and the burping begins. Even thought they are dressed like Ladies, there is nothing Ladylike about their behavior. Mistress Kat applies some makeup to the slave's face, and then Irene bends him over the punishment box for a single tail whipping. The Mistress share stories and belch loudly while this is going on. Scene 2: The action moves into the gothic dungeon where the slave serves again but must be lectured on proper wine etiquette. The Ladies begin spitting on the slave and pouring champagne on his breasts. Irene shoots champagne through a space in her teeth onto the slave's giant tits. Mistress Kat in gray rubber keyhole dress with vampire collar, and then sexy thigh high stockings, corset, and heels with short skirt. Princess Kali in 2 lovely rubber dresses, first blue and then black with boots and Princess crown, Irene Boss first in blue rubber cat suit and then in lingerie, stockings and heels with veiled hat. 57 minutes. Join to view!

$29.95 + 10.00 S & H - MIB POB 42430 Pittsburgh PA 15203 (412 362 6883)

81 minute full DVD download in members!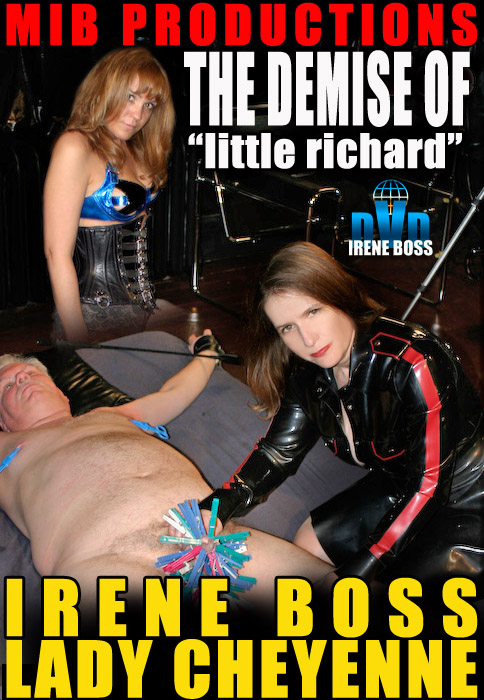 Special thank you to the member who reported the sound was out of sync.

I hope you will enjoy the DVD I sent!

RELOADED - THE DEMISE OF LITTLE RICHARD! (81 minutes)

BALLKICKING / KICKING / CP / WHIPPING

Scene 1: Watch the infamous Richard 50 get beat up by two girls! The Mistresses begin by assaulting him while he is bound to the floor and forced to look up at them. Irene takes a riding crop to his feet, while Cheyenne flogs his chest. He is blindfolded, and also made to wear the Nova Pro while the Ladies continue their torture. He is face sat by Irene. Clothespins are placed all over his body several times, and the 2 Mistresses kick them off with their open toed high heeled shoes and step on his cock. He is hoisted upside down in a straight jacket for belly punching, and barefoot belly kicking. He is frequently kneed in the stomach and kicked in the balls. Scene 2: Little Richard is placed in the caning stockade in the corporal detention center. The ladies warm him up with a good strapping, tawsing, and paddling. The razor strop, Scottish tawse, evening star, and lady spanker are all put to good use. Little Richard is forced to count during his punishment. He receives a stern caning from both Ladies - first with traditional bamboo canes, then with the carbonite and white lightning implements. He is placed over Cheyenne's knee for a good old fashioned bare bottom paddling while Irene holds his head in between her legs. The Ladies trade places and Irene gives him a very stern and severe hairbrush spanking while Cheyenne holds him still with her legs. Irene gives him 12 bullwhip strikes while he is fastened over the punishment box. Scene 3: Little Richard is suspended by the wrists on his knees and the ladies take turns punching and kicking him in the stomach. They wear pointy toed fetish shoes for maximum sensation. They also kick him with their bare feet simultaneously. For the kicking and punching enthusiast. 81 minutes. Join to view!

$29.95 + 10.00 S & H - MIB POB 42430 Pittsburgh PA 15203 (412 362 6883)

25 minute full DVD download in members!
THIRSTY SHOCKED TOILET! (25 minutes) Full film now in members!
ELECTRO PLAY / CBT / BONDAGE In the new medical room at the Compound, Domina Irene Boss is showing Mistress Shane the new equipment, including a slave who has been positioned on the hospital bed for their devious pleasures. The Ladies teases in tight rubber outfits and pantyhose. He is bound and repeatedly shocked with violet wands and many different electrical attachments. The slave is moved to the examination table where his head is enclosed in a plexi glass potty chair while Irene has her way with him and Mistress Shane zaps away. The final scene features Mistress Shane seated on a potty chair over the slave's face while Irene takes a turn. Mischievous, devious, and just plain mean! 25 minutes. Join to view!

$29.95 + 10.00 S & H - MIB POB 42430 Pittsburgh PA 15203 (412 362 6883)

54 minute full DVD download in members!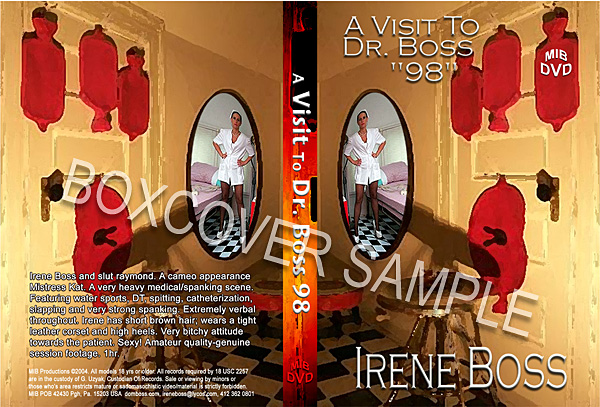 BLAST FROM THE PAST! Full film now in members! (54 minutes)
ENEMAS / ELECTRICAL / ELECTRIC CBT / DILDO TRAINING / SPITTING / SLAPPING / CORPORAL / BONDAGE / PISS Cruel and unusual! Irene Boss and slut raymond. A cameo appearance by Mistress Kat. A very heavy medical/spanking scene. Featuring E's, DT, spitting, slapping, and very extreme spanking. Extremely verbal throughout. Irene has short brown hair, and wears a tight white leather corset and high heels. Very bitchy attitude towards the patient. Amateur quality. Join to view!

$29.95 + 10.00 S & H - MIB POB 42430 Pittsburgh PA 15203 (412 362 6883)