New Writing in Members! "Dom Con Atlanta 2010 After Party" The last day of DomCon is always bittersweet. It's sad to leave the convention, where everyone is kinky, where the atmosphere is full of sexuality and kink and acceptance, to return to ordinary life. On the other hand, two of my favorite DomCon events happen on that last day; the Mistress' Tea and the afterparty. The tea is an opportunity to serve many Ladies, and gives that special satisfaction of work done purely for the Ladies' pleasure. The afterparty is a wonderfully intimate event, where some of the people who enjoy the event most get a chance to socialize with some of the people who've been working hard to make things great. At the last afterparty, Ms Boss had played with me good and hard, giving me a good strapping, a hard caning, and an incredibly intense hand-strapping. She'd told me she'd be playing with me again at this afterparty, and I was excited for it to happen, and wondering what she had in mind. I was also, however, aware that it had been a long and busy convention for her, and I was fully prepared not to be played with, should she be too tired or need the rest. For our Friday session, she'd looked very official in her dark suit. For the afterparty, she oozed sex from a red latex minidress. Her breasts didn't so much peek out from the latex, as boldly challenge the audience; how they stayed in it at all, I'm sure I don't know! Her arms were bare to the shoulder; that's always a treat, as it makes me think of what those arm muscles are able to do! Ms Boss had brought a the shammy strap, convent strap, a cane, and her signal whip. She asked Mistress Ellen what she should do with me, and how long the marks should last. "Cane the inside of his thighs," my Mistress said. "And marks?" "Have fun--marks are always good!" she replied. I stripped to my thong, and Ms Boss led me to the cross. "Face out, this time," she said, and laughed her deep, threatening laugh. Read the rest here

I recently exhibited at the annual Venus Fair in Berlin Germany October 21st - 23rd and had a great time (as usual)!
BossDVD.Com - Hall 11 Stand 16

New Writing in Members! "Dom Con Atlanta 2010 with Ms Boss, Part 1" I knocked on the door, and it opened, though she stood behind it where I could not see her. I'd been next door an hour before, to drop off groceries and supplies; Ms Boss allows me the privilege of shopping for her when we attend DomCon, and it makes me feel very good. This time the door opened to the playroom. Classical music was quietly playing, the lights were soft, and a candle was burning. There was a chair and a bed in the room, and also the Tetruss frame, fitted today with a sling. My heart warmed to see the bottles of water I'd bought arranged neatly on the table. Then the door closed and Ms Boss emerged. Her hair was pulled back, and she looked long and tall in a pinstripe jacket and narrow, knee-length black skirt. "Did you know you were in trouble, young man?" she demanded with a smile. "You are dressed very casually, like you were a schoolboy. I expect to see your standard of dress improve today!" She laughed, and then showed me what she had planned for the session. As usual, there were straps, paddles, canes, and a tawse; but she also had a soft, heavy signal whip that she planned to use on me. After showing me the toys, she told me to go into the bathroom, strip to just my shirt and underwear. "When you return, we will begin." I undressed as ordered, and returned, excited for things to begin. Ms Boss first had me pose for a "before" picture, and then sat on the bed, and told me we would start with a 500-count hand spanking. I settled myself over her knee. "Give me your hand," she said, and held my hand behind my back. "Brace yourself!" she announced, and began. Midway through the spanking, she stopped and asked me when I had last had a hand spanking. I said it had been a long time, and that few Ladies bothered to spank me with their hands. "Really? That's a shame. You seem to be feeling this!" and she recommenced. And truly, it did hurt. Not enough to make me cry out, but enough to put me in my place. Enough to put Ms Boss thoroughly in charge. I lay across her lap, feeling her hand drumming me slowly into the right mind-set. Once the hand-spanking was over, I was made to lie on the bed, face-down, with the pile of implements in front of me. Ms Boss then picked up a two-sided leather paddle. One side was inflated like a balloon, and the other was smooth leather. The balloon side exploded with incredible noise, but no pain. It was an odd sensation, to hear the explosion and feel nearly nothing! The other side, though, had a bit to it, and made me feel pleasantly uncomfortable as Ms Boss paddled me with it, one side and then the other. It had a distinct biting/pinching feeling and as always it was lovely to lie underneath her blows, and relax into the pain. Read the rest here

"Sex and the sissy Director's Cut" (Contains more explicit scenes) Irene Boss and Coral Corrupt! Ms Boss walks in and starts smacking the sissy bitches business around. She gives him speech commands, desiring him to speak in high humiliating fake girlish tones. She informs him that the purpose of the video is to make him eat his own cum. She decides to make him more attractive and completely transforms him. Ms Boss is decked out in rubber with a strap-on. Upside down suspension follows with voice activated electro and pussy CBT with flogging. POV cum eating instructions! Ms Boss moves him to a CBT chair for further instruction and verbal humiliation, along with a wig change. He is presented to Ms Coral in this manner. The bitch is placed upon the tilting electric stretching cross and cock stockade for further electric torments including a violet wand. The Ladies then move the miscreant to a bench for a spectacular strap-on on scene. He is made to cum and eat his own spunk. Humiliating cum eating POV! 50 minutes. ORDER ONLINE Product information: DVD arrives in a clear plastic ejector case - DVD R format (no art no box cover). Not available in stores, only online here.

I was recently a Mistress of Ceremonies at Dom Con Atlanta.
Here is a nice picture from a Dom Con of the past taken at the Mistresses Dinner in Los Angeles.
Click on the photo to visit the Dom Con Atlanta website.
009.jpg

Now in members - an hour of hijinks from Don Con LA 2010.
The charity punishment and fun at the After Party! 56 minutes

New Writing in Members! "Meeting General Mayhem" The man sat in a dark bar in Pittsburgh a couple miles from his hotel. The bar was empty except for an old and near deaf bartender. In one hour the man would be waiting outside his hotel - as he had been directed by his Domina - Irene Boss. A few minutes later, he paid for his beer, and then began to walk up the long hill toward his hotel. Later, the nervous man was waiting just outside the door near the hotel lobby. Soon it would begin. The scene. Her and him. Then he saw the big black Hummer arriving. Exactly on time! The man walked toward it. Inside the vehicle the attractive Dom thrust a thumb backward. The man obeyed the order by climbing into the back seat. Then the Dom at the wheel pulled into a nearby stall in the hotel lot. "Climb into the back, under the blanket, and take off all your clothes! Put everything in the back seat! Remain naked under the blanket!" "Yes, Mistress", he replied. The man tumbled over the seatback and crawled under a dark blanket. Would he be seen by people looking from nearby windows? Removing one's clothes completely in the dark while beneath the blanket was not easy. When he was finished, he felt the Hummer begin to move. Soon they were in traffic. Up a hill. Then around a corner. Stopping. Starting. Speeding up. Slowing down. Honking. Domina Irene attended to her driving. The naked man beneath the blanket rolled to and fro, trying to adjust to the movements he could feel but not see. Soon the big car stopped, and he heard a garage door lifting. The car moved forward. The motor stopped. Remain where you are!" The man heard steps. Then heard nothing. He waited. A minute. Five minutes. Naked under the blanket. Then he heard steps approaching. Closer. He heard the hatch at the back of the Hummer open.
Read more

"The Sophisticated slave" FREE TRAILER LONGER TRAILER IN MEMBERS
EUROPEAN RELEASE - Warning: Serving the Boss and Mistress Wynter at the same time will result in serious sadism! This Mistress whore did not head the warning and found himself facing the consequences. The Ladies really get down to business in their strict leather attire. He is extremely whipped with bulls and signals upon the cross and then given an extremely large series of strapons on a bench while in head bondage and then in a sling. More is more! 41 minutes. ORDER ONLINE Product information: DVD arrives in a clear plastic ejector case - DVD R format (no art no box cover). Not available in stores, only online through this site.

Reloaded "The airport extraction of "slut pig" (pre 911) 31 photos - join to view the full size!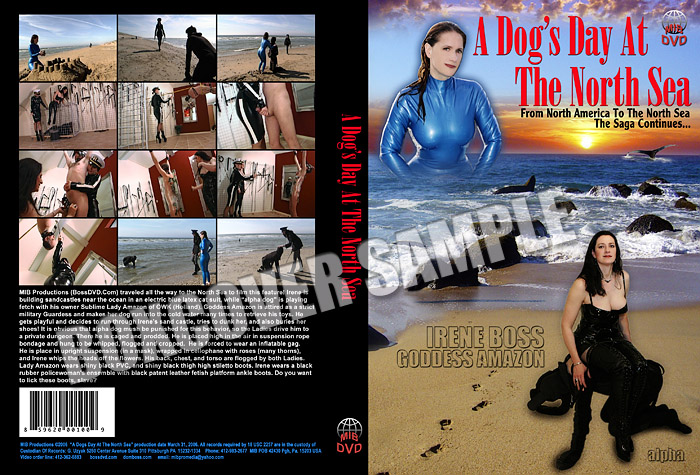 MIB Productions (BossDVD.Com) traveled all the way to the North Sea to film this feature! Irene is building sandcastles near the ocean in an electric blue latex cat suit, while .alpha dog. is playing fetch with his owner Sublime Lady Amazon of OWK (Holland). Lady Amazon is attired as a strict military Guardess and makes her dog run into the cold water many times to retrieve his toys. He gets playful and decides to run through Irene.s sand castle, tries to dunk her, and also buries her shoes! It is obvious that alpha dog mush be punished for this behavior, so the Ladies drive him to a private dungeon. There he is caged and prodded. He is placed high in the air in suspension rope bondage and hung to be whipped, flogged and cropped. He is forced to wear an inflatable gag. He is place in upright suspension (in a mask), wrapped in cellophane with roses (many thorns), and Irene whips the heads off the flowers. His back, chest, and torso are flogged by both Ladies. Lady Amazon wears shiny black PVC, and shiny black thigh high stiletto boots. Irene wears a black rubber policewoman's ensemble with black patent leather fetish platform ankle boots. Do you want to lick these boots, slave? ORDER DVD WITH 30 MINUTES OF BONUS TRAILERS Product information: DVD arrives in an elegant European book box - Professional DVD 5 format. Region and country code free. Also available in stores near you.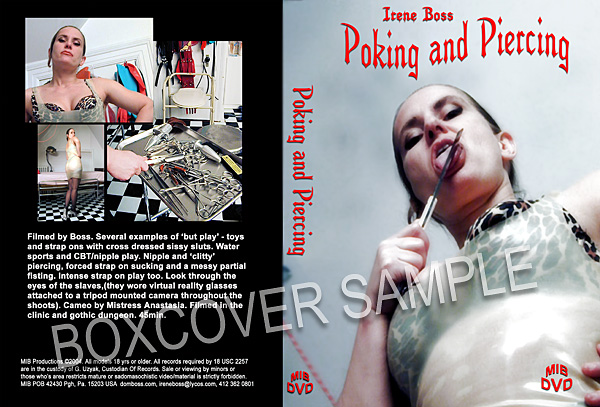 "Poking and Piercing" FREE TRAILER
JOIN TO VIEW FULL MOVIE (edited for content) New 480 x 360 format!
This director's cut DVD contains a scene that is golden. EUROPEAN RELEASE - Examples of 'butt play' - toys and strap-ons - with cross dressed sissy sluts. Some medical (E) and cbt/nipple play. Nipple and 'clitty' piercing, and forced strap on sucking. Intense strap on play! Look through the eyes of the slaves, as you get to see everything they see (they wore Quick Time VR glasses attached to a tripod mounted camera through out the shoots). Irene Boss and a cameo with Mistress Anastasia. Filmed in the clinic and gothic dungeon. ORDER DVD WITH 30 MINUTES OF BONUS TRAILERS
Product information: Director's cut DVD arrives in a clear plastic ejector case - DVD R format (no art no box cover). Not available in stores, only online through this site.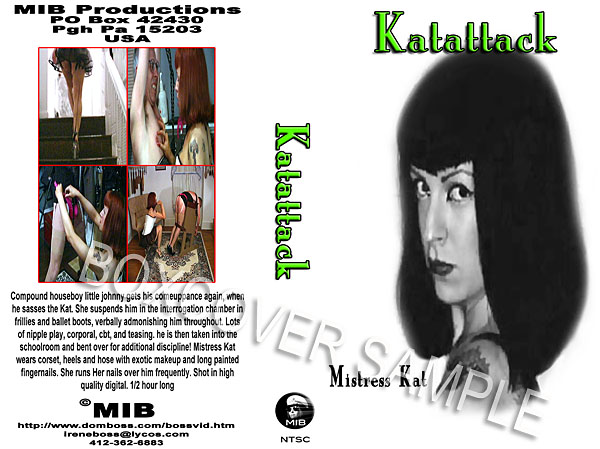 "Katattack" JOIN TO VIEW FULL MOVIE New 480 x 360 format!
Compound houseboy little johnny gets his comeuppance again, when he sasses the Kat. She suspends him in the interrogation chamber in frillies and ballet boots, verbally admonishing him throughout. Lots of nipple play, corporal, cbt, and teasing. he is then taken into the schoolroom and bent over for additional discipline! Mistress Kat wears corset, heels and hose with exotic makeup and long painted fingernails. She runs Her nails over him frequently. ORDER DVD WITH 30 MINUTES OF BONUS TRAILERS Product information: DVD arrives in a clear plastic ejector case - DVD R format (no art no box cover). Not available in stores, only online through this site.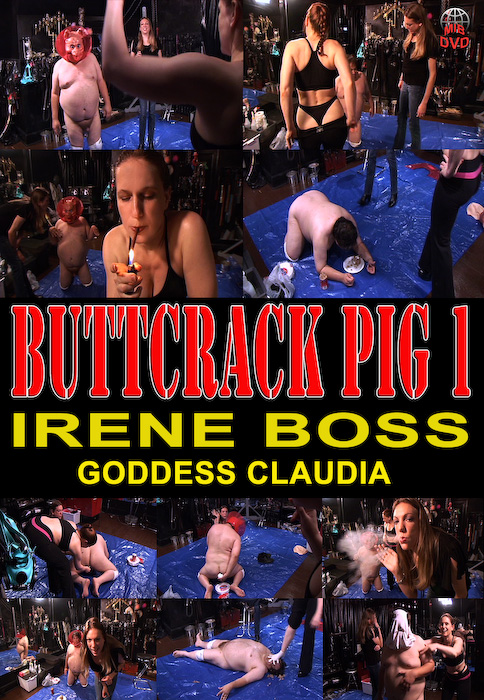 "Butt crack pig cake fucker parts 1 and 2"
JOIN TO VIEW FULL MOVIE New 480 x 360 format!
Part 1! Extreme Humiliation! Stuffed turkey with "special dressing". How disgusting! Sheer Dominatrix madness! Filmed in August during Goddess Claudia's (South Florida) visit. The return of "troll boy the ashtray pig" who morphs into "the butt crack pig". Very extreme - he cries! Goddess Claudia and Irene Boss humiliate a pig! A disgust to behold. What a grossathon this is. Woohoo! Butt crack pig is forced to finger himself, and rub cake in his crack and eat it while Irene and Claudia jeer at him, and right at you too. You will feel just like you are him! You know that 'crack kills' (the smell of nasty butt crack, that is). "Cry baby cry baby stick your finger up your butt"! Cake fucker - extremely humiliating splooge. The slave is made to finger himself in front of Goddess Claudia and Irene Boss while they laugh! Spitting and cackling at the disgusting BUTT CRACK pig. Ha ha ha! Spanking with a heavy metal paddle! Goddess Claudia smokes sexily in a teasing way and the slave gets extremely excited! Irene Boss spits at him and humiliates him by discussing full toilet training under the outhouse in the backyard. Goddess Claudia drools spit into his mouth. Is this you? What a pig! Extreme spitting and drool! Not even foot worthy! The pig is only allowed to lick the shoes of Goddess Claudia because he is so disgusting. He must chew and swallow the cigarette butt after begging to eat it. He does a troll dance. He is forced to eat his boogers. Irene Boss decides that the slave must get dressed over his disgusting cake-mess and leave that way. Irene makes extremely humiliating comments during this clip. Goddess Claudia almost vomits from the grossathon. Hilarious! Bend over and spread your ass crack! Tons of fun with this pig. Extreme verbal humiliation and the disgusting pig is forced to exercise in front of Goddess Claudia (in jeans) and Irene Boss.
Part 2! Goddess Claudia and Irene Boss! Extreme verbal humiliation. The slave is covered in dog food, cake, spit, and cigarette ash, and forced to dance to Peaches. He is so disgusting Goddess Claudia has trouble looking at him, and he is only allowed on the tarp. Cake Fucker is then made to fuck a cake. Irene spits on him while Claudia laughs! Irene lights another cigarette for Claudia and she blows smoke right at you! The pig is made to masturbate while Irene spits on him. Goddess Claudia smokes in a very sexy manner and teases the pig slave. Goddess Claudia then spits in his mouth. What a disgusting raunchathon! "Butt crack, that's where it's at!" The pig is made to sing and dance to the B52's song "Love Shack" butt must insert the words 'butt crack' instead, while Goddess Claudia and Irene Boss spit on him, hoot and jeer! Very humiliating. What's wrong Mr. Penis Wood Poopy Pants? Not the kind of "dancing" you were thinking about? Well too fucking BAAAAD. This is FEMALE DOMINATION - "FEMALE SUPREMACY STYLE". You don't like it? TOUGH ! I dare you to jack your meat to this canker sore of a clip and I bet ten dollars you won't cum either. Ha ha ha! (Seriously. Goddess Claudia is SUPERIOR to butt crack pig! He is so gross and covered with dog food, spit, cigarette butts, and cake that he is not even allowed to dance near Irene Boss's equipment. Spitting and calisthenics compliment this sorry "show". He will never get an Emmy for this! The pig is made to masturbate while Goddess Claudia and Irene Boss laugh so hard they cry! He manages to even cum on command. Yuck - how disgusting. He is then made to get dressed over his mess of cake, spit, cigarette ash, and dog food. GET DRESSED YOU PIG! Goddess Claudia and Irene Boss clean their shoes and the slave is forced to place his dirty socks in his mouth. He can't take it and has a break down after Irene makes him put his shoes on opposite feet. This is "AFTER CARE". Ha ha ha ha ha ha ha!
ORDER DOIBLE FEATURE DVD WITH 30 MINUTES OF BONUS TRAILERS DVD product information: DVD arrives in a clear plastic ejector case - DVD R format (no art no box cover). Not available in stores, only online through this site.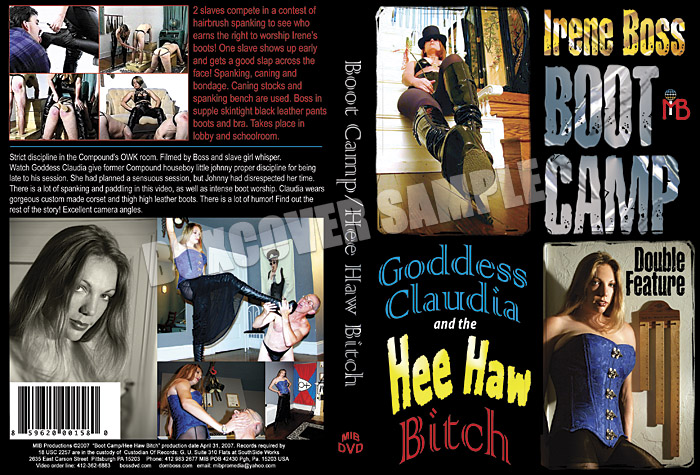 "Goddess Claudia and the Hee Haw Bitch" JOIN TO VIEW FULL MOVIE New 480 x 360 format!
Strict discipline in the Compound's OWK room. Filmed by Boss and slave girl whisper. Watch Goddess Claudia give former Compound houseboy little johnny proper discipline for being late to his session. She had planned a sensuous session, but Johnny had disrespected her time. There is a lot of spanking and paddling in this video, as well as intense boot worship. Claudia wears gorgeous custom made corset and thigh high leather boots. There is a lot of humor! Find out the rest of the story! Excellent camera angles. ORDER DVD WITH SURPRISE DOUBLE FEATURE AND 30 MINUTES OF BONUS TRAILERS DVD product information: DVD arrives in an Amaray Case - Professional DVD 5 format. Region and country code free. Also available at stores near you.
(September 2010 archive) Other archives