Just loaded to members in higher resolution .mp4!
"Good Vibrations HD"

Irene Boss and Mistress Shane are examining the creature known as Gladys.

Scene 1:

Irene asks Mistress Shane why she enjoys punishing this particular slave, and Shane responds it's because Gladys has "a greedy pussy". Gladys is tied to a pillory in rope bondage with one leg up for cropping, teasing, cbt and chest flogging. Gladys cummes while being flogged. The Ladies turn Gladys around for more of the same and scratch him too! Gladys orgasms over and over again in his panties.

Scene 2:

Gladys is restrained face up on the black leather bondage table for nipple torture and chest flogging. He receives a good fingering.

Scene 3:

The spanking bench is demonstrated. A tandem bare handed warm up spanking is followed by a paddling, good hard whipping, caning, and strapping with a spiked implement. Gladys is filled with a vibrating egg and left alone to squirm and shudder, orgasming anally over and over and over again. Irene Boss and Mistress Shane wear gorgeous rubber ensembles. Shane in black rubber pants, top and corset and Irene in rubber dress with thigh high rubber boots.

Just loaded to members in higher resolution .mp4!
"Claiming of orchid/whipping of john"

!

Lady sage, Goddess Claudia, Lady Cheyenne, Irene Boss, and orchid. The most intense Female/male whipping scene imaginable! 3 scenes with 4 beautiful Mistresses, a female slave, and a male masochist. Presenting (the never before seen in an MIB Productions video) the onscreen debuts of: Lady Sage, Goddess Claudia, orchid and john. Filmed during the Ohio Lether fest in Columbus. A Compound on location extravaganza! 1). Our story begins when Boss and Friends - Lady Cheyenne, Goddess Claudia, and Lady Sage - decide to pay a little visit to a slut named orchid. Naughty orchid is put through her paces by Goddess Claudia and Lady Sage with severe genital torture and nipple play in some very interesting positions. orchid is very emotional and even cries at one point, which just encourages the Ladies even more! Boss and Cheyenne look on approvingly. 2). The 4 Ladies take on brat john with some incredibly heavy paddling, spanking, and whipping. Boss actually breaks a wooden paddle on his backside. All the Ladies take turns with this miscreant and Goddess Claudia and the Boss end this scene with a tandem bullwhipping on john's back and behind. 3). The Women return to orchid 'the bondage lovely'. she is restrained and tormented with electricity, and then placed in an arm binder with a gag and blindfold while the four Ladies go out to dinner. The sight of the naked orchid squirming on the leather coach while the 4 Ladies abandon her is something to be remembered!

Just loaded to members in higher resolution .mp4!
| | |
| --- | --- |
| Rough treatment she deserves! | "The Corporal's Punishment" Private Nicola has been a lazy soldier. She isn't in her military regulation clothing when Officers Irene and Gemini storm her barracks in search of contraband. They find chocolate, dildos, S/M paraphernalia, and OWK magazines! Private Nicola's hair is not military regulation. She looks like someone's college aged daughter who just dropped out of school with that silly mow hawk she's sporting! They wrestle her to the floor tearing her clothes off. Next, she is interrogated about the contraband and told what she must endure if she wants to avoid court marshal. Nicola is made to bark like a dog, grovel and beg for the two female officers. She is kicked in the ass repeatedly and slapped across the face. The private is a sassy brat who likes to talk back. You will lust over the uniforms of Irene and Gemini. Custom made leather and green jodhpur pants, corsets, ties and military hats with riding boots. Attention! Nicola is nude and restrained to the OBGYN table with heavy bondage mitts and thick leather ankle restraints for her head shaving. The Ladies take turns shearing Nicola with various razors, and make humiliating designs on her head. Finally, her head is lathered and shaved. She endures breast bondage and electricity on her nipples and pussy. Her piercings are placed in suspension while Irene takes her brain for a ride under the Nova Pro, and she experiences voice activated electro genitorture. Both Ladies take turns cracking the whip to set off the sound activated electroshock system. Hasn't this soldier had enough? What a good trooper! The two Female Officers change their clothes into sexy lingerie ensembles featuring garters, stocking, hose, heels, and gloves. Nicola is on the spanking horse for strapon play. She is collared, gagged, leashed, and teased with dog toys, and is forced to play fetch. A golden scene too. It's so wrong! Order DVD |

Just loaded to members in higher resolution .mp4!
"Bullwhipped Bastard"

Irene invites her friend over to witness and partake in a bullwhipping/corporal discipline session! The opening scene features slave Dave in upside down suspension braving the rigors of stomach cropping with extensive cbt, double flogging, predicament bondage, and paddling. He is hoisted right side up in near suspension, and a different electric box is used to torture his package. He is corrected with a nylon paddle and lash. He is then restrained over the punishment box to receive a whipping from a single tail, signal, and then a bullwhip. See sparks fly and blood flow. Her friend is invited to launch into him with a heavy paddle twice. Irene wears an East German border guard jacket, matching hat, black leather custom corset, black girdle and silver boots and gloves. Her friend wears jeans and a black knit top.

Just loaded to members in higher resolution .mp4!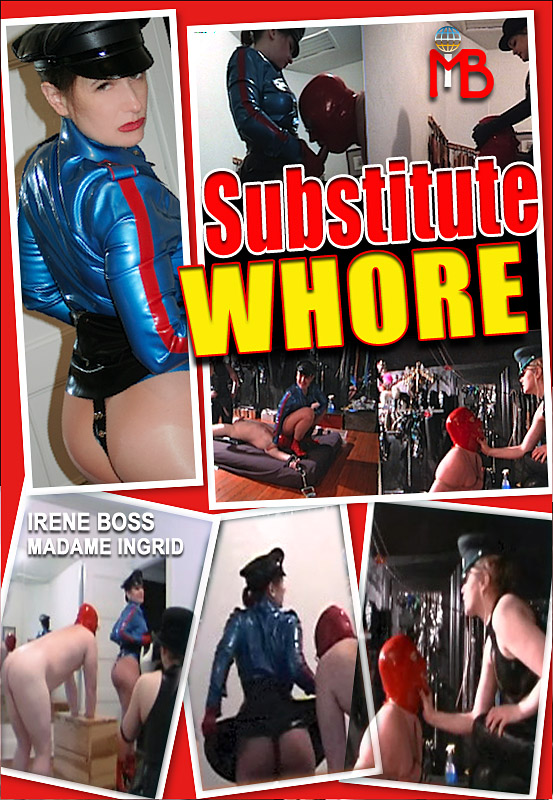 "The Substitute Whore" 70 minutes in members
Assland Tom's "trip" to the Compound! Irene Boss and Madame Ingrid are angry! The whore house has not provided the whore they wanted for their amusement. They wanted a whore who could poop on cue and take large toys and a good whipping, but instead they got a low ranking "substitute whore" who can take very little. Listen to Irene shred his ego in a verbal onslaught of humiliating tyranny. Many activities are explored...strap on sucking, strap on, bondage, humiliation, kissing Mistress's beautiful ass, and foot worship. Absolutely hilarious!
Get it on DVD (higher resolution)
Get it on DVD as part of a compilation

Just loaded to members in higher resolution .mp4!
"Electrical Debauchery Diabolique"

The slave is bound to the new multi bench in the CBT position.

He cannot move anything but his high heeled shoes.

He is gagged, corseted, and collared taking a myriad of Irene's torments.

He is a leg fetishist.

First she teases him with her strong pantyhose covered stems, and once he is excited she experiments with one of her own electrical devises (she designed) on his nutsack.

He is catheterized with a sparkler and eletcric bi-poler nipple vices are attached for a ride you won't believe!

Maya Sinstress visited September 20th - 22nd!

Ms Maya Sinstress says:

I began My career as a professional Dominatrix in 2000. I apprenticed at Two Highly Reputed Establishments- Jade's Dungeon and Lilith's Sanctuary. In 2003, I became an independent Mistress and joined forces with the Goddess Project. In 2004, I broke out on My own. The Sinistry (my private Chicago dungeon) came to life in 2005.

I am a Professional Pervert, a Fetishist, a Performer, a Fetish Model, a Sadist and Artist. I have been Dominant, Bossy & Bitchy all of My life. Naturally, I matured into a Spoiled Princess and Seductress.

By nature, I am a TEASE. I laugh at other's expense. I am all you desire and then some. I am aggressive. I expand all boundaries. I am creative. I am mysterious. I like a mental challenge. I am complex. I am Independent. I am Feminine. I am Graceful. I am imaginative. I bust balls. I am not afraid of the unknown. I have high expectations. I do not settle for second best, nor do I give second chances. I recognize My Inner Strength and Power as a Superior Female.

I am too much for most boys and men to handle. All others should proceed with EXTREME caution. I am the High Priestess of Pleasure and Pain.

My Interests are divided into 5 categories: Bondage, Fetish, Role Play, Torture and Sensory Play.