Boss in sexxxy skin tight rubber. Check out what effect 5 miles a day and soy protein is having!


28 vidcaps and 17 .rm clips featuring upside down suspension, bullwhipping, dildo training, ass worship. gs, and cum eating.
30 high resolution images from the new video "The Female Disciplinary Manual"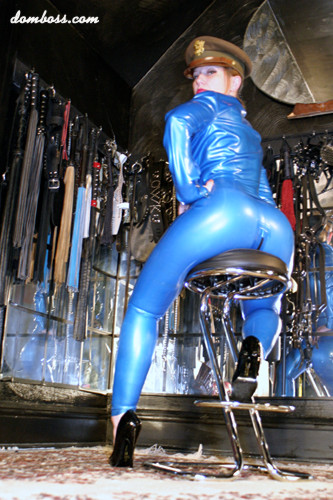 Keep on truckin'! (12 images)

Remember "macho bitch"? The tranny I took to OWK and sold on the auction block? I arranged for his hair to be bleached while we were there. He didn't know I was going to do this. (he he) Well, he likes to wear his OWK collar in public when he goes to work, so I told him everyone wants to see pictures and he complied. Since he is a macho truck driver by trade, this is pretty interesting!
Fly the Dominant Skies! (15 images)

Part of my trip so South Florida. Pictured here, I go on a little ride with my friend Goddess Claudia (pilot and flight instructor) in a Piper Arrow plane. Watch the new flash flick too!
Fantastic long promotional clip from the new video - "Pissboy"!

Extreme Nipple Play and CBT! 30 high resolution images - a session with Boss and Anastasia


25 .rm golden shower clips, a masturbation masterpiece clip and 30 action shots. You will truly be exhausted as a result of this (he he).
The Gorgeous Goddess! 38 high resolution images of Claudia during Her visit!


Claudia in extreme custom fetish boots - 8 images!
New video available! Bull whipped Tranny Bitch:
Part 1: The story opens with 'macho bitch' suspended upside down in the Compound's new OWK room, wearing a red rubber dress, red pony tail hood, white patent leather boots, and a black leather arm binder. Irene and Anastasia assault him with predicament bondage, c&b, single tail whipping, flogging, spanking, intense dildo sucking, spitting, and forced body worship. Irene Boss and Anastasia in black mesh cat suits and strap ons, with military hats. Part 2: In the gothic dungeon the slave is placed right side up and endures a lot of cbt and toy training. The Mistresses are quite merciless spanking his cock. The slave does time in the sit sling enduring a gang bang from the 2 Mistresses with a GS at the end. order


New video available: Pissboy
Part 1: How many GS scenes can a slave possibly take? You will be amazed at "piss boy". He's the energizer bunny! What a good camper. He must take at least 10 in this new video. Swishy pissy begins his adventure mummified in saran wrap on the hospital bed in the Compound's medical room. He wears a bright red rubber hood throughout. Irene Boss and Anastasia in black body stockings, lingerie, top hats, and military hats. Irene begins by doing GS right in the slaves face with some aromatherapy. There is a great deal of laughter! GS is done frequently into different containers and the slave is forced to consume it. CBT and nipple play occurs while this is going on, with some sarcastic humor directed right at you slaves about how you fantasize about sucking a big beautiful dick like pissy's. Lots of humiliating cbt and the slave is forced to eat his own stuff too. There is some smothering and much forced strapon sucking. Boss was a good Daddie and made pissicles for subbie. The Ladies freeze torture him with the tasty treats. After intense armpit worship, the first potty chair comes out and pissy's special gag and funnel are attached to his head so he is forced to consume every drop. Clear plastic hoses are attached to an enema bag, and piss flows into pissy's plastic cocoon while he is ridiculed. He is forced to suck on Irene's piss soaked panties as a gag. Part 2: Pissy gets a break in the Schoolroom while strapped over the punishment bench. He inhales a nice big bucket of you know what while the Ladies take turns flogging him. He cant get away without his strapon and inflatable toy treatment in the sit sling (Gothic dungeon) however, and Irene has yet another drink up her sleeve. The final assault occurs in the medical room with pissy strapped into the second potty chair wearing his special gag braving Niagara Falls. Irene forces him to consume his nasty cumcocktion at the end. Now that's a toilet! order