"Rubber Grlz" is now available!
This girl got a lot more than she bargained for when she decided to visit the Compound. She told Irene that she was a spanking bottom, but Boss and Anastasia figured out quickly that this girl could take a whole lot more than that. The scene opens with extreme tickle bondage in the sit sling in the Compounds chapel room (in the jail cell area) and progresses into a good old fashioned over the knee spanking and leads to the Gothic Dungeon. The ladies wore sexy rubber costumes, and this was slave girls first time in a tight rubber catsuit. She loved it! There are some intense moments of double flogging, caning, bondage, upside down suspension and bullwhipping. You will be shocked at what she takes! order

.Rm clips and action shots coming soon. You can pre order now, or be notified of when these videos are completed. Send me an email!
3 1/2 minute clip from the new video Rubber Grlz


Presenting July's "hosemonster" - goofy tranny broad josie! 30 pics.


You have been asking for pictures from the new office - so here it is with your Boss in fetish gear in front of the computer!


Got foot fetish? Read this then - you will love it! Story and photo series.

What is a Dominatrix anyway? Hilarious interview!
Check out the new titles in the edit room!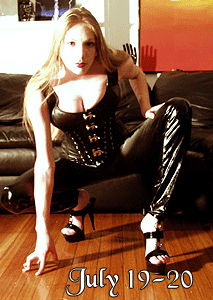 Boss a main feature in Full Exposure!

Goddess Amazon - Sublime Lady Citizen of the Other World Kingdom (from Holland) is visiting in November. Dates TBA shortly.
The rude voice wav is back!
12 exciting .rm clips, beautiful high resolution panorama, 35 stunning hot new high resolution colorful photograps and 32 action shots from the hot new video "Rubber Grlz"!