Do you know what body worship is to a professional Domina? Did you think it was "pussy worship" or "ass worship", or something stupid like that? Well, its not! Body worship is: *you the slave admiring me and serving me. Look at these pictures, watch my slave girl help me get dressed, and dream on!
Ultra humiliation! New story by "edwina" Showing how truly emasculated I have become, I felt ashamed at not being able to take the butt plugs, rather than relief at not having to suffer the humiliation of taking it in the ass. Finally, Mistress Irene inserted tampons in my ass and I cherished the feeling for a half hour or more as I received a whipping and paddling before being raped with a dildo. After removing the tampon, Mistress Irene again showed incredible patience and compassion as she slowly penetrated me and tried not to hurt me, too much. When the dildo finally went in, we both felt relief and satisfaction after the long struggle. Mistress Irene could now fuck me with abandon as she shoved the dildo in and out with force and fervor, fucking me for all I was worth, as I screamed in ecstasy and sensual fulfillment. Meanwhile, to complete my ultimate emasculation and debasement, I sucked Mistress Antoinettes dildo with passion and desire. As a slave and closet transvestite, I was in seventh heaven, I was sucking and fucking and relishing every second of the most humiliating...continued in members
13 minute web movie "The Chapel" Strict Girl/girl corporal discipline. Sexy! 5 shorter clips for 56k 21 high resolution images Full size images in members.
New videos out of the edit room:
"Extreme Lessons in Bullwhipping"and "The Female Disciplinary Manual"
What you missed: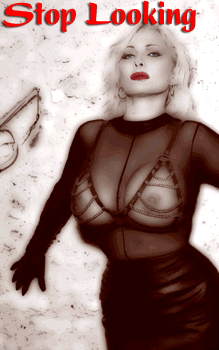 Mistress Antoinette visited December 13th - 15th. We made 2 new videos!

Update on Bossy Boot galleries. Thanks for ordering me those new pairs! keep them coming...
More availability for Mistress Maria